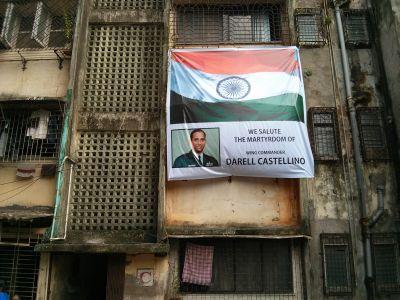 Abhishek Mande visits the housing society where Wing Commander Darell Castellino, who was piloting the ill fated IAF chopper that crashed while conducting rescue operation in flood-ravaged Uttarakhand, used to stay.
The housing society in Vakola, a western Mumbai suburb, where the late Wing Commander Darell Castellino owned a house, wears a deserted look.
Large hoardings displayed in the premises are the only visible evidence of the society's most famous resident.
Some members of the family arrived a few minutes ago.
The family has chosen to stay away from all media attention, firmly refusing requests for any interviews.
Further, they have also turned down requests for a prayer meeting made by fellow Christians.
Many members of the housing society have been on leave since Thursday and are guarding the entrance to the wing in which the Castellino's mother has been largely residing alone since 2005.
The neighbours I spoke to confessed they hadn't known the late wing commander too well since he'd been away for most of the time.
Sudesh Desai, the society's chairman, recollected the time Castellino had approached him while purchasing the flat and described him as a humble person. "It wasn't until much later that I realised who he was (an officer in the Indian Air Force)."
Ashish Thakur, another resident and neighbour, also conceded that he didn't know the late Wing Commander Castellino too well but admitted that in the few interactions he had, Castellino had left a lasting impression.
Another member said the only time he saw him was when he would come visiting his mother while on leave since 'most of the time he used to be away on deputation'.
With each passing hour, the neighbours are closing ranks, refusing to speak to the media, requesting reporters repeatedly to respect the family's privacy.
"She is in shock," a neighbour told me of Wing Commander Castellino's mother. "You must leave them be."
Meanwhile, an officer of the local police station came over to inform members of the society that the mortal remains of the hero will be flown into Mumbai either today or tomorrow.
The last rites will be held on Sunday.
Image: A tribute hoarding seen in the housing society where Late Wing Commander Darell Castellino lived in Mumbai
Photograph: Abhishek Mande/Rediff.com