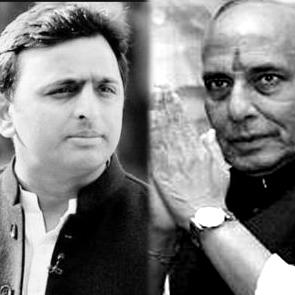 A virtual race has begun between the Samajwadi Party government in Uttar Pradesh and the Bhartiya Janata Party over providing relief to the flood-ravaged people of the Himalayan state of Uttarakhand.
This became more glaring on Wednesday when Uttar Pradesh Chief Minister Akhilesh Yadav hurriedly convened a press conference to declare a handsome compensation for four of the 20 Indian Air Force personnel, who died in the helicopter crash in the treacherous Himalayan terrain on Tuesday.
"Since four of the IAF victims belong to Uttar Pradesh, the Samajwadi Party government has decided to give Rs 20 lakhs to the families of each of them, who laid down their lives while carrying out their mission to evacuate those who were stranded in hostile conditions in different parts of Uttarakhand," Akhilesh Yadav told mediapersons.
The announcement came barely an hour after BJP president Rajnath Singh declared a financial assistance of Rs 5 lakhs to the families of each of the 20 IAF victims.
The UP chief minister announced another largesse in an obvious reaction to the BJP chief's announcement of sending a cash relief of Rs 56 lakhs together with some 10 truckloads of food and other relief material.
"We have already given away a special relief of Rs 25 crore towards the Uttarakhand flood relief fund. Now we have decided to send Rs 350 crore, that is sum total of the dues against pension funds of employees who were transferred from UP to Uttarakhand after it was carved out of this state in 2000," Akhilesh said.
He went on to add, "Although we were supposed to give this share in installments, we took a decision to send it across in one shot essentially in the light of the tragedy that has struck Uttarakhand."
Interestingly, BJP backroom boys have been overactive in publicising whatever the party was doing for the Uttarakhand flood victims. Well before Rajnath Singh's arrival in Lucknow, the party put up a large number of hoardings announcing the party president's plan to flag off relief material from the state capital.
Significantly, both Gujarat Chief Minister Narendra Modi and his close lieutenant Amit Shah figure prominently on each of the hoardings.
Image: Akhilesh Yadav and Rajnath Singh