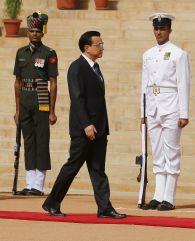 Even though the border stand off in Ladakh figured prominently during the talks between Prime Minister Manmohan Singh and Premier Li Keqiang in New Delhi, the issue was conspicuously missing from the Chinese leader's remarks circulated by the foreign ministry in Beijing on Monday.
"I want this visit to show the world that China-India political mutual trust is being strengthened, their practical cooperation has been expanded, their common interests far outweigh their dispute and differences", Foreign Ministry spokesman Hong Lei quoted Premier Li as saying in his talks with Prime Minister Singh.
Hong was replying to a question on Singh-Li talks held Sunday night during a dinner meeting in New Delhi.
Li said China and India are important neighbours to each other and two most populous emerging market economies and their relations have strategic significance.
"To stress on practical cooperation for common development between India and China will deliver benefits to peoples of the two countries as well as peace, stability and prosperity of the region and beyond", Hong quoted Li as saying.
Referring to recent meeting between Singh and Chinese President Xi Jinping at Durban on the sidelines of the BRICS and his own telephone conversation with Singh after he took over as Premier, Li said leaders of the two countries have a broad consensus on pushing their relations to a new high and opening a new chapter for the development of their ties.
"The two countries have the will, wisdom and capability to jointly nurture new bright spots in cooperation among Asian countries, create new engine of the world economy, provide huge growth potential and market demand for Asia and the world, and push forward China-India strategic cooperative partnership for peace and prosperity," Li said at his meeting with Singh.
But the border reference figured in Singh's comments to Li.
Given that the meeting took place about a month after a 19 km deep incursion by the Chinese troops in Depsang valley in Ladakh which was resolved only two weeks ago, the focus was on the stand-off there and Singh conveyed India's serious concerns over the breach of status quo by China.
"India highly values its ties with China and is ready to work with China to advance their practical cooperation, manage and control border disputes, and lift their strategic cooperative partnership to a new level", Hong quoted Singh as saying.
Singh told Li that the Indian government and people feel honoured for Li making India as the first stop of his maiden trip abroad.
According to Hong, Singh said there is enough space in the world for the common development of India and China, adding that the two ountries are partners, not opponents.
Singh said cooperation between India and China has much significance for world peace and prosperity.
Image: Chinese Premier Li Keqiang inspects a guard of honour during his ceremonial reception in Rashtrapati Bhavan.
Photograph: Adnan Abidi/Reuters