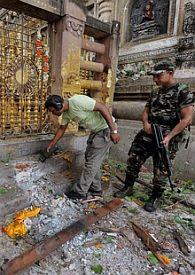 A team of the National Investigation Agency will question Anwar Hussain Malik, a West Bengal-based suspected Indian Mujahideen operative in connection with Sunday's Bodh Gaya serial blasts.
Malik's role will have to ascertained as he has been on our radar since the past two years, an NIA official told rediff.com.
Anwar's name had cropped up for the first time during the German Bakery blasts in Pune. He is alleged to have supplied explosives for the attacks.
He is also accused of running the West Bengal module of the IM.
The police and NIA say that Malik is being viewed as a suspect for now.
He may also be in the know of the operatives who carried out the blasts on Sunday, the NIA said while indicating clearly that the line of investigation tilted towards the Indian Mujahideen.