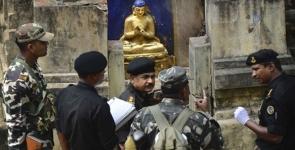 The probe into the multiple blasts in Bodh Gaya was handed over to the National Investigation Agency by the Centre following a request from the Bihar government.
The ministry of home affairs has notified that the investigations in the July 7 serial blasts case stand transferred to the NIA from the Bihar police, home ministry officials said.
A team of NIA had reached Bodh Gaya on Sunday evening, hours after the temple town was hit by the terror attack, and had been assisting the Bihar police in the investigation.
Bihar Chief Minister Nitish Kumar had asked the Centre to hand over the investigation into the blasts to the NIA.

Image: Investigators at the Mahabodhi tempe blast site