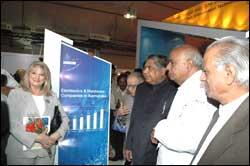 As Bangalore geared up for the annual show of its technological prowess at IT.IN 2005, 86.5mm of rain submerged much of the city on Tuesday.
Particularly affected were Hosur Road, Old Madras Road and Koramangala, which is also where the majority of IT companies are based. Palace Grounds, the venue of IT.IN, is at a higher altitude but it was also flooded on Tuesday.
BV Naidu, chairman of Software Technology Parks of India, one of the main organisers of IT.IN, said, "On Tuesday, we were completely at a loss.. Things have improved on Wednesday since the rains have stopped but the roads in many areas are still flooded, which makes access a problem."
Naidu, however, said the event will go on and the attendance has been encouraging.
Former prime minister Deve Gowda, the leader of the Janata Dal-Secular, which is in coalition with the Congress rulers in the state, attended the inauguration of the event.
He said it was under a JD(S) regime that IT companies began to receive encouragement and the subsequent Congress government only took that policy forward. "It is unfair that people think we are against IT," Gowda said.
Meanwhile, since rains have let up since Tuesday evening, the city is limping back to a semblance of normalcy. Chief Minister Dharam Singh, along with Deputy Chief Minister M P Prakash and Water Resources Minister Mallikarjun Kharge, toured the city on Tuesday and Wednesday.
A spokesperson for Kharge said, "Nearly 1,500 people have been left homeless and 500 slums destroyed. We have opened 28 relief centres across the city and so far, have been notified of 10 deaths on Tuesday."
The chief minister has assigned Rs 30 crores for disaster management in Bangalore while other rain-affected districts, like Mandya and Kolar, have been given Rs 5 crores.
"Traffic was badly affected," said a spokesperson for the Bangalore City Corporation. "Roads were flooded and the water is just beginning to recede. We are still assessing the damage."
When asked about measures being taken, he said that several areas come under the City Municipal Councils and hence, the BCC could not do much. Within CMC limits, 8802 houses have been inundated and 374 damaged.
BCC Commissioner K Jothiramalingam refused to comment.
A employee with a software firm in Electronics City, which is where several IT majors have offices, Karavi S and her colleagues were stuck in traffic for over eight hours on Tuesday night, as against their daily commute of an hour.
"The roads are under construction and the flyover is being built on Old Madras Road so the flooding just added to the confusion," she said.
Rashmi Ashok, who also works near the Electronics City, said, "It's not that the roads were good in the first place. And now it has become impossible to commute."
Several areas of the city also experienced blackouts.
A Bangalore resident who flew into the city on Wednesday morning observed that the city looks nearly submerged.
Across the state, there have been 26 deaths because of the rains. Trains towards Tamil Nadu have been cancelled since a bridge at Kamasamudram, in Kolar district, collapsed on Tuesday.
The Army was asked to stand by to assist the state authorities in Tamil Nadu and Karnataka in rescue and relief operations in flood-hit areas as there was no respite from rains even as weathermen predicted heavy rains in next 48 hours.
Karnataka authorities sought the army's help in Mysore, Chamrajnagar, Kolar, Mandya, Bangalore Rural, Bangalore Urban and Hassan districts of Karnataka, which bore the brunt of rains in the state while in Tamil Nadu, the assistance has been requisitioned to close the breaches in Cauvery river in Tiruchirapalli district.
Chief Minister Jayalalithaa and her Karnataka counterpart Dharam Singh held detailed discussions with top officials of the states on the flood situation.