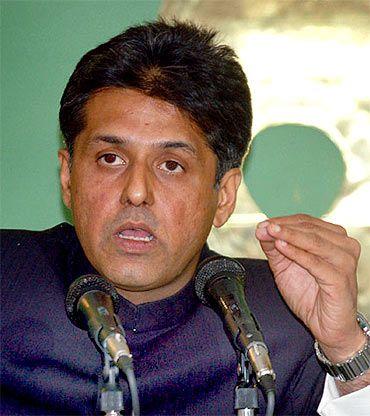 In a dig at the Bharatiya Janata Party, Union Minister Manish Tewari on Tuesday said the party's internal matters were playing out like 'reality TV' as everyone was aware of what was happening.
"The civil war in their midst is playing out like reality TV in the public space and everybody is very cognisant of what's happening," he told reporters when asked to comment on Gujarat Chief Minister Narendra Modi's meeting with senior BJP leader L K Advani.
Though Tewari described the meeting as an internal matter of the BJP, he hit out at Modi saying, "But I think the larger question which has to be considered, needs to be done in the context of the Hindi proverb - 'Charan pade santan ke, aur hua banta-dhaar (Trouble followed the arrival of the saints)'.
"That in 2001, a gentleman becomes the chief minister of Gujarat, in 2002, the entire communal harmony is completely demolished. As that gentleman turns towards Delhi, the NDA stands completely demolished. The BJP is a party which is at war with itself."
He said people in the country should take note of these developments.
When asked for his reaction on Prime Minister Manmohan Singh's statement that Bihar Chief Minister Nitish Kumar was secular, Tewari said, "I don't think what the Prime Minister said and what Nitish Kumar commented in return needs to be speculated upon.
"It is self speaking. I don't need to add or subtract anything to it. I think the moot question which people of this country would judge is that who at what point in time, took appropriate decision, keeping in mind the core idea and the core vision of the pluralistic idea of India."