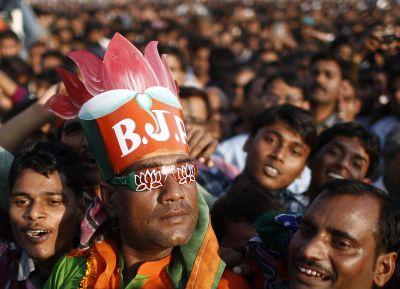 The Bharatiya Janata Party on Monday won the Churu seat, taking the party's tally to 163 out of 200 assembly seats in Rajasthan.
BJP's R S Rathore defeated his nearest rival of Congress and sitting MLA Hazi Maqbool Manddelia by a margin of over 24,000 votes, whereas security of seven other candidates was forfeited.
Rathore got 84,100 votes, while Maqbool bagged 60,098.
Chief Minister Vasundhara Raje's loyal Rathore was also a sitting MLA from Taranagar assembly constituency but he changed his seat and the party fielded him against Mandelia.
Voting for the Churu seat was postponed following the demise of BSP candidate Jagdish Meghwal and polling with 78.55 per cent was held on December 13.
Polling in 199 seats was held on December 1, in which BJP swept the state assembly polls bagging 162 seats. Congress won 21 seats, while BSP got three seats. NPP won four seats, while seven seats went to Independents and two went to others.
BJP's state chief Vasundhara Raje was sworn in as the Chief Minister of Rajasthan on December 13.
The Cabinet formation is still pending. BJP's parliamentary board meeting held in Delhi yesterday was to finalise a panel of MLAs to be inducted into the Raje cabinet.
Due to Union Minister of Labour Sis Ram Ola's death and his cremation today, the Cabinet formation may be held on December 18, the party sources hinted.
Photograph: Anindito Mukherjee/Reuters