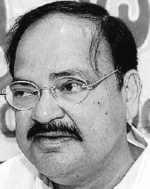 The Bharatiya Janata Party on Saturday blamed Prime Minister Manmohan Singh for pushing the country to a '1991-like' economic situation and questioned the rationale for introducing reforms now after eight years of rule.
"The prime minister's (televised) address on Friday (explaining the need for FDI and increase in diesel price) is disappointing, deceptive and unconvincing. He could not justify the reasons and convince his own allies," BJP leader and Rajya Sabha MP M Venkaiah Naidu told the media in New Delhi.
Charging the United Progressive Alliance with deflecting attention from "its scams and scandals" by introducing the FDI move and diesel hike, he also asked Dr Singh to get Parliamentary approval for FDI if the Congress claimed to have the numbers in Parliament despite Trinamool Congress withdrawal of support.
The government 'betrayed' the Parliament and the people when it did not stick to its word on implementing FDI only after securing consensus among all stakeholders as promised by then finance minister Pranab Mukherjee in Parliament, he said.
"The prime minister has admitted a 1991-like economic situation. Who is responsible for this? You, the prime minister and your party (Congress) who have been in power for eight years," Naidu said.
"It is because of the economic mismanagement, wrong policies, policy paralysis, lack of priorities and extremely unproductive schemes," he said.
Referring to the PM's contention that some people (parties opposed to FDI) were misleading the country on the issue, Naidu said the UPA's own allies the Dravida Munnetra Kazhagam and the Samajwadi0 Party had taken part in the recent nationwide bandh.
Kerala Chief Minister Oommen Chandy had opposed FDI, while party chief Sonia Gandhi had asked Congress-ruled states to provide nine subsidised LPG cylinders even as Singh had argued that six were enough for one household, Naidu said.
With the SP and the DMK participating in the bandh and Trinamool Congress pulling out, the Congress should explain whether these parties were misleading people as claimed by the PM, he said. PTI SA BN
Naidu also slammed Dr Singh's defending the diesel price hike by insisting that rich persons used diesel-run cars. Naidu said crores of farmers used the fuel for irrigation purposes in non-delta regions in motor pumps besides widely using it in tractors.
"Every political party except Congress is protesting against these.We challenge the government get the Parliament approval for FDI in retail, hike on prices of diesel and cap on LPG if it says it has the numbers (to keep itself afloat)."
Naidu expressed fears that prices of kerosene and PDS sugar could also be increased even as bus and train fares were likely to shoot up in the wake of diesel price rise.
The BJP's national executive will meet at Faridabad from September 26-28 which will chalk out future programmes as part of intensifying protests against the "anti-people" policies of the government.

Image: BJP leader Venkaiah Naidu