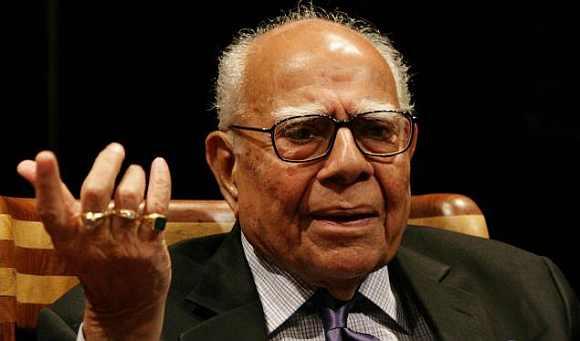 The suspension of veteran lawyer Ram Jethmalani from the Bharatiya Janata Party [ Images ], for daring the party to act against him on the issue of appointment of the Central Bureau of Investigation director, may be revoked.
Indications to this effect were available after Jethmalani met senior leader L K Advani [ Images ] and BJP chief Nitin Gadkari [ Images ] on Friday morning. Jethmalani was also vocal on the resignation of Gadkari as the BJP president in the wake of reported irregularities in the latter's Purti Group.
At the meeting with Advani and Gadkari, Jethmalani reaffirmed his faith in the BJP's ideology and wished that the party may come to power in the country," BJP spokesman Shahnawaz Hussain told reporters in New Delhi [ Images ].
He said the lawyer had also handed over a letter at the meeting to this effect. "The matter will be considered by the BJP Parliamentary board," Hussain said. Later, Jethmalani said he had met Advani and Gadkari but refused to go into details.
"Ask the leaders... I am just a sevaadhari (servant)," was his response to questions on what transpired during the meeting. Asked whether a decision would be taken on revoking his suspension, he said, "I hope it will happen. It should happen."
Jethmalani was suspended from the BJP on November 26 for attacking the party stand which had taken a critical view of the appointment of Ranjit Sinha as the director of the CBI.
In a letter to Prime Minister Manmohan Singh [ Images ], leaders of the popposition Sushma Swaraj [ Images ] and Arun Jaitley [ Images ] had asked him to keep the CBI director's appointment in abeyance.