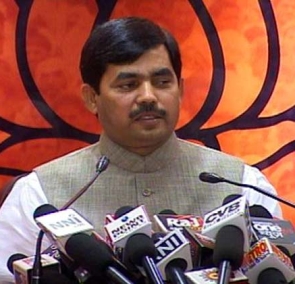 Senior Bharatiya Janata Party leader Syed Shahnawaz Hussain was made to wait a good 30 minutes on Tuesday outside the gate of the Mahabodhi temple, the site of serial blasts on Sunday, due to the visit by United Progressive Alliance chairperson Sonia Gandhi and Union Home Minister Sushilkumar Shinde.
"I was not allowed to enter Mahabodhi temple by the district administration due to the visit by Sonia Gandhi and Shinde. I was kept waiting outside the main gate (in the reception area) for nearly half-an-hour," Hussain told
reporters. Hussain was later allowed inside the temple along with three others from the BJP.
He said Congress leader Ambika Soni, state minister Shahid Ali Khan and a few other Congress and Janata Dal-United leaders were allowed to accompany Sonia and Shinde inside the temple. "But I was prevented," he said.
The BJP MP, who has 'Z' category security, said he would move a privilege notice in Lok Sabha against the district administration for preventing his entry into the temple without any valid reason. Hussain, who represents the Bhagalpur seat in Lok Sabha, said he had given a notice of his visit a day in advance to temple officials. "It was not a central security agency or NSG who stopped me; it was Bihar government officials who prevented me from going inside," Hussain said, hitting out at the ruling JD-U, his party's erstwhile partner in the state.
"Is this discrimination (being made because) now the BJP is not a part of the Bihar government?" he asked. He also questioned the absence of Chief Minister Nitish Kumar, who holds the home portfolio, at the site.
"Was it because the world would have come to know of his (Kumar's) growing closeness with the Congress if he is seen with Sonia," Hussain asked.