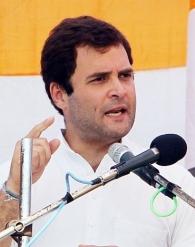 With the bitter war of words between the Congress and the Bharatiya Janata Party intensifying, Rahul Gandhi on Saturday dubbed the BJP as a "party of thieves" and accused it of "looting the natural resources" of Chhattisgarh.
"I want one thing from the son of Nand Kumar Patel. I want not one but around 500 Nand Kumar Patels. I will not bring them from Delhi, I want them from the crowd here who can stand up and kick out BJP from here, these thieves from here," Rahul said while addressing a poll rally in Kharsiya, the home constituency of slain state unit Congress chief Nand Kumar Patel, ahead of the second phase of polling on Tuesday.
Patel, along with top state Congress leaders, was killed in a Naxal ambush in Bastar's Jiram Ghati on May 25.
Touching an emotional chord, Rahul said tribals and Dalits of Chhattisgarh were forced to fight a battle everyday due to the lack of development.
"On May 25, Nand Kumar Patel was killed in Jiram Ghati. (However) For common tribals and Dalits, every day is May 25 and every place is Jiram Ghati. Atrocities on women are also May 25 and when youth are devoid of education then that day is also May 25 and that place is Jiram Ghati," Rahul said.
The Congress has fielded Patel's son Umesh Patel from this constituency, which is going to polls on November 19 in the second and final phase of the elections.
Launching a blistering attack on the BJP, Rahul said, "Patel had told me that Chhattisgarh is a rich state. Land, forest and mines belong to people but all these things are being looted from them. It should benefit the people".
Lauding the efforts of Patel, he said the Pradesh Congress Committee chief never wanted to be a minister or a candidate for elections, but only wanted to serve the common people.
"Watching him (Patel) for the first time, I felt that he will become chief minister as he was connected with the people. Whenever I talked with him, he never spoke of becoming a candidate or a minister. He always said that he wanted to fight for the people," Rahul said.
Alleging that natural resources are being looted in Chhattisgarh, the Congress vice-president said, "If the wealth of this state is given to women, children and people, this state can emerge like Delhi and Haryana".
Rahul added, "Had Nand Kumar Patel became the chief minister, then he would have been the CM for 15 years because he was associated with the common man and knew of their plight".