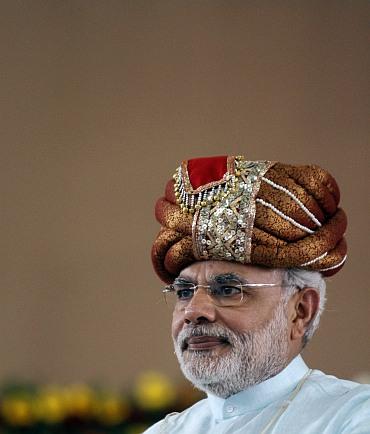 Downplaying Gujarat Chief Minister Narendra Modi's comment that he got mandate to serve the state till 2017, the Bharatiya Janata Party on Friday said that one should not read too much into it as Modi has articulated a "tactical, legal and constitutional position".
The BJP national spokesperson Sudhanshu Trivedi said Modi has showed his commitment to serve Gujarat till 2017 and not publicly set his sight on being prime ministerial candidate. But, his remarks should not be interpreted to draw an inference that he has ruled himself out as the party's prime ministerial candidate, Trivedi told reporters in Patna. He hinted that the Gujarat chief minister would be BJP's prime ministerial candidate, which would be announced at an appropriate time after a decision on it by the party's parliamentary board.
The BJP leader said there was a precedent in the party from 1996 to 2009 to announce its prime ministerial candidate ahead of Lok Sabha polls and the next election would be no different. But such a decision would be taken by the parliamentary board at an appropriate time to be followed by an announcement by the party president, Trivedi said.
On the remarks by chief ministers of Madhya Pradesh and Goa apparently trying to create a hurdle in the path of Modi being projected as BJP's prime ministerial candidate, Trivedi ruled out discontent against Modi's leadership from any quarters within the party.
Attacking the United Progressive Alliance government for its all round 'failure', he said the BJP-led National Democratic Alliance, if elected to power at the hustings, would set things right.
Earlier in the day, Trivedi held a workshop of Bihar BJP leaders of media and publicity wing and taught them about managing the media and optimise use of social media to spread the party's ideology and agenda in the run up to the next parliamentary polls.