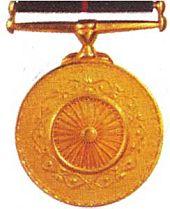 Delhi Bharatiya Janata Party President Vijender Gupta, who has expressed profound grief over the death of the 23-year-old gang rape victim, has written a letter to Prime Minister Manmohan Singh requesting that the brave heart should be awarded the Ashoka Chakra, India's highest civilian award for bravery, on January 26.

In his letter, Gupta said: "The courage and bravery she exhibited has inspired the whole nation and shaken our national consciousness." 
 
"Through this letter I would like to make a strong recommendation to honour the Delhi gang rape victim by awarding her with the Ashoka Chakra, India's highest civilian award for bravery on January 26, 2013, the Republic Day," he said. 
 
"As a reference I would like to cite the case of Neerja Bhanot who was a flight attendant for Pan Am Airlines and died while saving passengers from terrorists on board the hijacked Pan Am Flight 73 on September 5, 1986. She went on to become the youngest recipient of India's highest civilian award for bravery, the Ashoka Chakra," he added
 
Gupta further wrote: "You (Dr Singh) were one of the few people who were present at the time her body returned from Singapore and I am confident that you will consider the feeling of the nation to honour her with the Ashoka Chakra."
 
The move comes after a 23 year-old physiotherapy student was gang-raped and brutally assaulted allegedly by six men in a moving bus in south Delhi on December 16 night. She died from her injuries on December 29 at a Singapore hospital.
 
The attack prompted street protests across India, international outrage and promises from the government of tougher punishments for offenders.
 
Meanwhile, Delhi Police will submit its chargesheet in the magistrate court in Saket on Thursday. The case will then be moved to the fast-track court.
 
Delhi Police had earlier invoked murder charges against the six men allegedly involved in the gang-rape.