The Sangh Parivar is convinced that by agreeing to Rahul Gandhi's demand for a Parliament debate on communal riots would expose the Congress vice president's lack of homework on the issue. Archis Mohan reports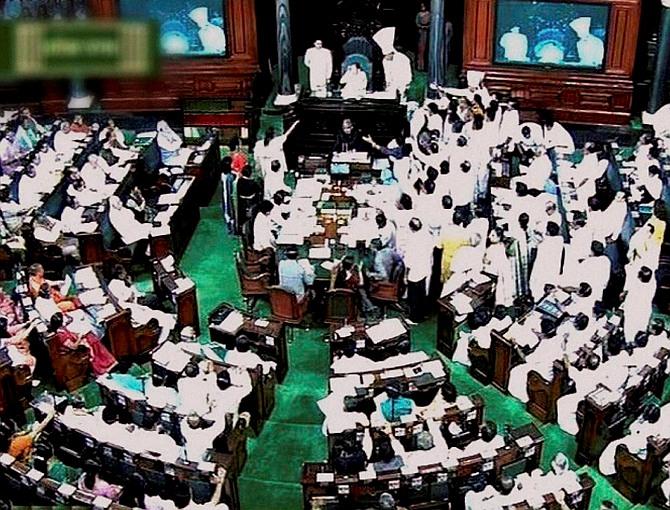 The Sangh Parivar believes it has led an effective social media campaign to highlight the 'truth' of the recent incidents of communal violence, including an alleged gang rape in Meerut.
It feels the government should agree to Congress Vice-President Rahul Gandhi's demand for a discussion in the Lok Sabha on the increase in such violence in recent months.
The Bharatiya Janata Party-led National Democratic Alliance government could agree to a discussion as early as Friday, sources said.
Reports have cited police data to claim as many as 600 incidents of communal violence in Uttar Pradesh until end-July since the conclusion of the Lok Sabha elections in mid-May. Uttar Pradesh would see by-elections for 12 assembly seats by November.
The BJP, and the larger Sangh Parivar, are convinced that calling the Gandhi scion's 'bluff' on the issue would be the best strategy to embarrass him and expose his party's role in trying to defend communities it believes have been aggressors in rioting in Saharanpur and elsewhere, and also the Meerut gang rape case.
According to sources in the Parivar, its members have carried out an effective social media campaign in the past fortnight to nearly force mainstream media to highlight the issue, particularly the abduction and gang rape of a woman madarsa teacher in Meerut.
"It is because of our social media campaign that mainstream media picked up the story of this woman," said a Sangh Parivar source, who didn't want to be identified but is a key player in the social media campaign.
In this backdrop, the BJP plans to use Gandhi's accusations on the government and the Speaker to its advantage by agreeing to a discussion on recent incidents. The party is certain any discussion would also expose the Samajwadi Party, which runs the government in Uttar Pradesh.
On Wednesday, Gandhi, also an MP from Uttar Pradesh, from where most of the communal incidents have been reported, jumped into the Well of the House, along with other party MPs, after Speaker Sumitra Mahajan didn't agree to his demand for a discussion on recent incidents of communal violence.
"We are not being allowed to speak in Parliament... only one person's voice is heard," Gandhi said in a jibe at PM Narendra Modi on Wednesday. Finance Minister Arun Jaitley retorted "those who don't speak in the House accuse us of not allowing them to speak." It was an unmistakable reference to Rahul's poor record as an MP.