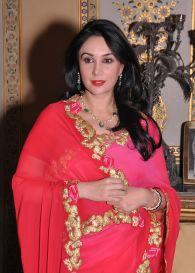 It's been just two days since she was formally inducted into the Bharatiya Janata Party and the life of Diya Kumari, the erstwhile Princess of Jaipur, has undergone a sea change.
Shahnawaz Akhtar spoke to Diya Kumari at the iconic City Palace, which doubles up as her residence and office, where the princess opened up about her joining hands with the saffron brigade, being addressed by name and a lot more.
Excerpts from the interview
When and what prompted you to enter politics?
This wasn't an overnight decision. I had been toying with the idea of joining active politics for almost a year now. I gradually started taking interest in what the people of the city want, ever since I got involved with charitable work, social service and imparting quality education through our schools. These factors brought me closer to the society and its problems. And perhaps that made me think of foraying to politics, so that I could do my bit to serve my people.
Was BJP the obvious choice for you or did it take time for you to decide? Your father had contested as a Congress candidate and grandmother Maharani Gayatri Devi had formed her own party
I am a new age politician, who dreams of development, so BJP was the obvious choice for me as it's the party of the future. People at the moment are disillusioned with the Congress because of the fall of economy, corruption, crime and scams -- both at the state and central level. I have great expectations from the BJP to develop Rajasthan as the number one state of India under the guidance and leadership of Rajnath Singh (BJP president), Narendra Modi and Vasundhara Raje.
Coming to my father joining Congress; let me tell you that it was a different party back then. There were several young leaders under Rajiv Gandhi (former prime minister). However, my father lost the election. That apart his political stint with the Congress was very short.
Would you like to be addressed as 'princess' or abstain from using it, now that you are a public figure
I never had issues with people addressing me by name. Even back in my college days, I had told my friends that they were free to call me Diya. When they endearingly asked me, I said I would definitely prefer being addressed as Princess Diya. My father was in the army so I have spent a huge chunk of my life just like most army men daughters have. I am proud of rich family history and royal legacy. But I actually have no hang-ups about all this and wouldn't mind being addressed by name.
But don't you think that joining the BJP in the presence of Atal Bihari Vajpayee, who had kick started the Vasundhara campaign in 2003, would have been better than joining in the presence of Modi?
I being a party member will have to go by what the party decides. And I think it in a different way. It was a real honour for me to be inducted into the BJP family in the presence of Rajnath Singh, party national president, Narendra Modi, the party's national election campaign committee chief and Vasundhara Raje, the state president, and the huge sea of people that had assembled for the meet.
Political observers believe that now the election contest and even an alliance will be made on the basis of being secular and non-secular? Your take on it.
I don't think so. I consider BJP a secular party, which has no religious bias. For me BJP is the party, which will help India develop as an economically stronger nation.
You have now become a voice of the people. Would you like to give your opinion on the shadow lingering on Modi -- post Gujarat riots?
I am too junior to answer or comment on such questions. I would not like to comment on it right now. But I would like to state that our family has been connected with people of all religious beliefs and we visit all religious places. According to me all religious places should be respected. Let me end by saying that I personally feel religion should not be part of politics.
Image: The erstwhile Princess of Jaipur Diya Kumari