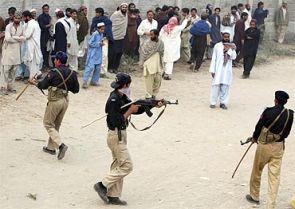 The controversial Pakistan Protection Bill, which gives sweeping powers to security agencies, was on Monday passed in the National Assembly amid protest and walk out by opposition parties.
Besides the entire opposition walking out in protest of the bill, of which its members also tore copies of, the Nawaz Sharif government's ally Jamiat-e-Ulema Islam-F also opposed the bill and walked out of the assembly.
The strongest and most potent of the provisions are the new powers given to security personnel to 'use force' to prevent a terrorist act.
The security forces can now open fire after "reasonable apprehension that death, grievous hurt or destruction of property may be caused by such act".
The amendment replaces the phrase "when fired upon".
Widening the scope of the term "terrorist", the ordinance brings target killers, extortionists and kidnappers also in the same bracket.
The bill declares all peace-disrupting elements as 'enemies of the state' and protection of life to be the state's top priority.
The ordinance allows cases of terrorists to be moved to any part of Pakistan, besides provisions ensuring that prisoners do not have access to cellphones in jails.
Under the new provisions, a Joint Investigation Team will be formed to submit interim chargesheet if an investigation officer fails to do so within the stipulated period.
The armed forces or civil armed forces will be authorised to detain a person involved in such offences for three months for investigations.
Currently, they can detain a suspect for 30 days.
For protection of judges, counsel, public prosecutor and witnesses, the government proposes that screens be used during the trial to shield witnesses, judges and prosecutors from public view.
The government also proposes to conduct such trials on the jail premises or through video link as well.
It also says that witness protection programmes may be established by the government through law or rules.
Image: A policeman points a gun at an unruly crowd in Pakistan's South Waziristan province
Photograph: Akhtar Soomro/Reuters