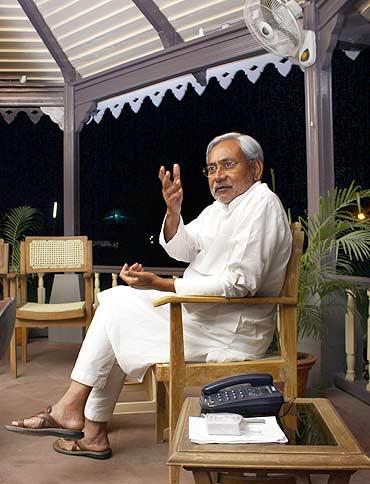 In a norm reversal, Nitish's village gets transformed, his house remains as it was.
Even the four feet-wide bylanes are concrete. New sewage systems are being installed. Mud huts have turned into pucca houses. New school buildings and community halls have already come up. A hospital and high school building are being built.
Kalyan Bigha village wears signs of prosperity almost everywhere but in this corner, where a single-storey building stands in a skeletal brick structure. Its earthen floors, lanterns, a few sticks of furniture and a well in the inside compound speak of modest living, taking the clock back to when a bauwa (child in Bhojpuri) used to play in this place.
The little boy has reached Patna today, ruling the state, and known to the world as Nitish Kumar. Son of a Kurmi poet and freedom fighter, Ramlakhan Singh, the chief minister visits his birthplace twice every year: on the death anniversary of his father and that of his wife. But the house remains the same. "I have told Maalik (employer) several times to build a proper house here. During summer, it is very difficult to stay", 72-year-old Sitaram, the caretaker, smiles, "Every time he replies, 'pehle Bihar banane dijiye, phir makaan banayenge' (let me build Bihar first, then I'll build the home)."
Kumar is believed to have studied up to class five in the primary school of Kalyan Bigha, before shifting to Bakhtiyarpur. Sanjeev Kumar, brother of the chief of the panchayat in Kalyan Bigha, sheepishly admits the village used to vote in favour of the Congress earlier. "But this time most of us will vote for Nitish Kumar."
Personal interest
Not only has the CM showered his ancestral village, a Kurmi-dominated habitat, with projects: every time he comes to his birthplace, he monitors their progress. Kumar and his brother, Satish, an ayurveda doctor, own 22 bighas in the village. A part of it has been used to build a a family memorial to his father, and wife Manju Devi. A small area out of their property, around a km away from the ancestral house, has been used to erect a mobile signal tower.
The village has got an Industrial Training Institute operating from the community centre. It has a primary health centre, with a doctor attending daily for eight hours. There is a power sub-station, just as Lalu Prasad's village does. The village temple has been renovated. "Five years ago, every house had inverters. Now they have been thrown away," laughs Mahesh Singh, a villager. Apart from these, land has been allotted for a library and a children's park.
Kalyan Bigha, in Nalanda district, has a population of 4,000 and apart from Kurmis, has a large number of Chandravanshis and Majhis. Village veteran Avdhesh Kumar recalls Kumar as a sharp, stubborn youngster. "He may have become a political leader but he continues to be stubborn. Once he had to mediate in a village dispute between two castes. One caste asked him to apologise. Nitish Kumar stood up and said, 'Why should I apologise? I haven't done anything wrong and I'll never apologise to you'. He walked out of the meeting, telling them not to vote for him in the next election."
After tasting development, Kalyan Bigha has higher expectations from Nitish. "We want some industries and job opportunities to come up in this area," says Dharamvir Singh. Sitaram, who has been seeing Nitish since the latter was 10 years old, visits the chief minister's residence frequently. "I don't need prior appointments. If he is there, I'm called in immediately. Then he asks everyone else to leave and makes me sit beside him on the chair. And, before I leave, Bauwa touches my feet."
In a small room in Kumar's ancestral home, Sitaram opens an aluminum trunk. It has a white towel, a few old shirts, trousers, bed cover and a black and white TV, among other things. "This is all Bauwa's stuff. When he comes here, he spends at least a few minutes in two places — at the well and then in this room. This is where he was born."
Kalyan Bigha wants Nitish Kumar to become the next prime minister. And Bauwa, too, has already told Kalyan Bigha what he wants from them: "When I die, make a samadhi in this village, alongside my father's and wife's memorials."

Image: Bihar's Chief Minister Nitish Kumar
Photograph: Reuters