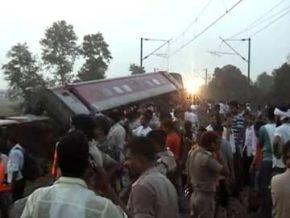 Following the Delhi-Dibrugarh Rajdhani Express derailment, the Bihar government has ordered an inquiry into the incident.
The state home secretary Amir Subhani has asked Saran district magistrate and superintendent of police to inquire into it and submit their report soon, an official said.

Bihar Director General of Police P K Thakur ruled out any sabotage or the involvement of Maoists in the incident. "There is no proof to indicate the involvement of Maoists in the incident," he said.
Reiterating the same, Saran Superintendent of police Sudhir Kumar also said that there was no evidence of sabotage or Maoists involvement. "It is an accident. It is the result of a technical fault."
Kumar added that around 500 metre of railway track had been uprooted near the accident site but there was no evidence of any explosives at the site.
Meanwhile, Bihar Chief Minister Jitan Ram Manjhi has announced a compensation of Rs 50,000 to the families of the four who died in the train crash.
Image: Officials and locals rush the injured to a nearby hospital after the Rajdhani Express train derailed in Chhapra.