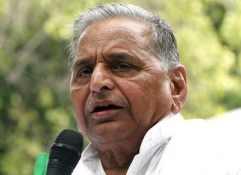 In a veiled threat to the United Progressive Alliance, Samajwadi Party chief Mulayam Singh Yadav on Thursday said his party will not "tolerate" anti-people decisions like hike in diesel prices and kept open the option of forming a Third Front.
Yadav also reiterated that the SP was supporting the government only to keep "communal forces" at bay.
Courting arrest along with leaders from the Left and other parties, Yadav demanded that the government withdraw immediately "anti-people" decisions like hike in diesel price, Foreign Direct Investment in retail sector and cap on LPG cylinders. Samajwadi Party with 22 MPs in the Lok Sabha is an outside supporter of UPA.
Yadav, who has kept his cards close to his chest after Trinamool Congress chief Mamata Banerjee announced her decision to withdraw support to the UPA government, said there was "no better example" than the huge protests to usher in a political alternative.
"I have said this several times that we are supporting the government only to stop communal forces (from coming to power). But we will not tolerate price rise," he told reporters after courting arrest along with Communist Party of India-Marxist General Secretary Prakash Karat, Communist Party of India leader A B Bardhan and former prime minister and Janat Dal-Secular leader H D Deve Gowda.
He said if the UPA government does not roll back its recent decisions immediately as per their demands "we will announce together a strategy to hold a big agitation."
Asked whether this would lead to emergence of a Third Front, he said, "What will be a bigger example than this?"
Earlier, addressing the protesters, he said, "The government has been coming out with policies after policies that affect people of this country. The biggest loser of these policies especially diesel price hike is farmers. Farmers have been put to lot of trouble. We will tour the entire nation and listen to people's grievances and decide our strategy."
Speaking separately to reporters at the protest venue, SP general secretary and national spokesman Ram Gopal Yadav said any decision on continuance of support to the UPA will be taken after the agitation.