While the police failed to follow the standard operating procedure in the alleged rape case, the school delayed reporting the matter to the police. Vicky Nanjappa/Rediff.com reports from Bengaluru.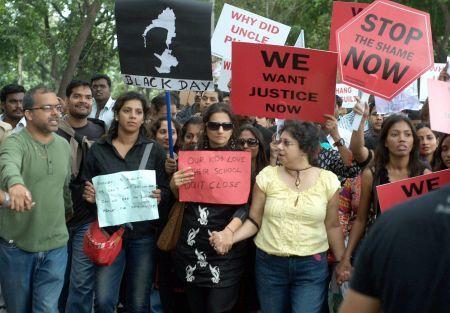 The alleged rape of a 6-year-old girl at a Bengaluru school, allegedly by a member of the staff -- a skating instructor -- has highlighted the lackadaisical attitude of both the city police and the school.
The police obtained a confession from the accused, but it is not admissible in court since they failed to follow the standard operating procedure.
Even though the suspect had been in custody for five days, the police failed to check his laptop and cell phone. Only when protests against the rape turned vociferous did the police go to the accused's home where they seized his laptop and allegedly discovered child pornography videos on it.
The mere discovery of such material by the police is not sufficient to prosecute the accused. The material has to be analysed by the police's cyber crime wing and needs to be sent to forensics to prove that the suspect downloaded the material and that it was not planted by the police on his laptop.
This procedure was strangely not followed in spite of the Bengaluru police having both a cyber forensics lab and cyber crime cell.
When the alleged rape was reported, the police asked the school to give them the CCTV footage. They examined the footage and declared that they had found nothing. As the parents intensified their protests, the police then claimed they had discovered fresh footage of the child leaving a room crying.
The school on its part failed to report the incident to the police despite being alerted by the child's parents. The school authorities claim they had to verify the information before going to the police.
The law clearly states that in such cases the police has to register a suo moto complaint against the school. This has not been done so far. The police claim they have not received any complaint against the school.
The Karnataka government has recommended that the ICSE board in New Delhi cancel the school's licence.
The ICSE board, which is in receipt of the state government's recommendation, says it cannot act on the basis of allegations. Once the police files its final investigation report only then can the board move to cancel the school's licence, of course, following an independent investigation.
The Bengaluru police has asked all city schools to conduct background checks of its staff. It will also ask schools not to insist that parents sign a bizarre form that states that school staff are not responsible for the safety of students.

Child pornography racket?

Mustafa alias Munna, the accused in the case, was in possession of a very expensive laptop and phone.

The police are wondering how a man with a salary of just Rs 18,000 and a family to support could afford such expensive gadgets.

A senior police officer told rediff.com that there was a lot of content pertaining to child pornography on his laptop.

"We know that such videos fetch a lot of money."

The laptop has been sent for forensic examination and the police are also analysing the call records of the accused.

Image: A demonstration in Bengaluru after the rape of a 6-year-old child in a city school. Photograph: PTI