Forty people were killed when a speeding bus overturned and fell into a ditch at Lakhipur village in Malda district on Monday morning.
The West Bengal police said the incident occurred at 9.15 am when the Chanchol-bound private bus, from Malda, skidded off the road due to heavy rains. There were 70 passengers on board
The police feared the toll could rise further as there might be more bodies in the bus, which is still submerged in water.
Five injured persons have been admitted at the Malda Sadar Hospital. They said the rescue work was being carried with the help of the local people. But heavy rains are hampering the pace of the rescue work.High-level police and district officials have reached the accident site.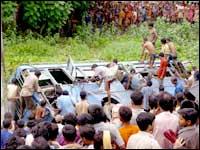 West Bengal Chief Minister Buddhadev Bhattacharjee said the government will pay compensation to the next of kin of those who died.
He, however, did not specify the quantum of compensation to be given by the state government.
In reply to a question, he said 35 bodies have so far been recovered from the site of the accident, which occurred when the bus carrying the victims skidded and fell into a roadside ditch.
Meanwhile, IGP (Law and Order) Chayan Mukherjee said the dead included four women and a child.
Altogether 12 persons have been admitted with injuries to the Malda Hospital, where the condition of at least three was
stated to be serious, Mukherjee said.
"Some government employees were travelling in the bus, as were some employees of a rural bank. We are yet to ascertain
their fate," the IGP said.
The bus had been lifted from the ditch with cranes, he said.