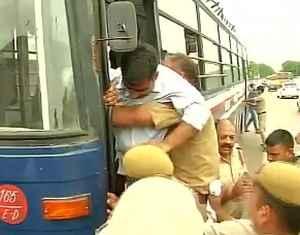 The government appealed to protesting Civil Services aspirants to be "patient" and said it would not tolerate any injustice to them on the basis of language.
"Government sympathises and it should be clear that under no circumstance we will tolerate injustice on the basis of language. The government and the prime minister are more concerned than the agitating students and are trying to find a satisfactory solution," Minister of State for Personnel, Public grievances and Pensions Jitendra Singh told reporters outside Parliament.
"We appeal them to be patient and stay calm and not subject themselves to mental agony," he said.
When pointed out that admit cards for UPSC exams scheduled on August 24 have already been sent out, Singh said, "This will not affect the exams as the committee report (constituted to look into the matter) is not out yet. This is also the UPSC's internal procedure of conducting the exams in a time-bound manner.
"As far as the controversy is concerned, we have to wait for 2-4 days. The controversy is related to syllabus and a satisfactory solution will be sought accordingly," he said.
Hundreds of Civil Service aspirants last night clashed with police, burning vehicles, including a police jeep, and pelting stones near main highway by-pass road in North Delhi's Burari area.
A three-member government appointed committee is looking into the demands of civil services aspirants to change the pattern of the Civil Services Aptitude Test (CSAT) to give level-playing field to those coming from rural areas.
There are two compulsory papers of 200 marks each in the preliminary examination. These papers are also known as CSAT I and CSAT II.
The CSAT-II paper carries questions on comprehension, interpersonal skills including communication skills, logical reasoning and analytical ability, decision-making and problem- solving, general mental ability, basic numeracy, and English language comprehension skills (of Class X level).
Students have been objecting to the level of aptitude and English language questions being asked in the CSAT II paper claiming they are much above the standard prescribed for the examination.
The civil services examination is conducted in three stages -- preliminary, main, and interview-- to choose candidates for Indian Administrative Service, Indian Foreign Service and Indian Police Service among others.
Image: Police detain protesting UPSC aspirants near Rail Bhawan in New Delhi
Photo courtesy: ANI/Twitter