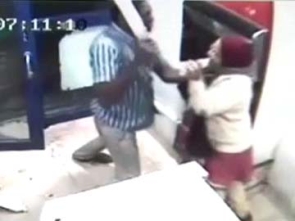 After having identified the man who allegedly attacked a bank official at an ATM in Bangalore last month, the police say his records indicate that he was a history-sheeter who murdered his wife in 2008. The man identified as Narayan Reddy has been absconding ever since he got bail in the murder case.
The Andhra Pradesh police, who has a database on Reddy, say there is enough evidence to indicate that he attacked the woman in Bangalore in mid November and also killed another at an ATM in Andhra earlier.
The Karnataka and Andhra Pradesh police finally appear to be making headway in this case. After having identified Reddy, they are now matching his fingerprints with those collected from the Bangalore ATM and studying other files related to him.
According to the police, Reddy has not returned to his village in Andhra for five years. His family members, who are being questioned by the police, say that he lost his mother at an early age and he is "not of a sound mind". He would often wander to different places, the police were told.
After stumbling with the probe, the police say that they are close to nabbing Reddy. "The three ATM cards he had stolen from Bangalore were never used by him. Hence, we found it difficult to track him. The only clue we had was the shop owner who had purchased the cellphone from the attacker for Rs 600. However, his questioning led us to nothing," an officer told rediff.com.
The police have been under immense pressure to crack the case after CCTV footage of the ATM emerged where Reddy was seen threatening the bank official, Jyothi Uday, and then attacking her with a machete. He then cleaned the blood with her napkin, took away her phone and left the kiosk after pulling down the rolling shutter.
Uday, who suffered grievous injuries, has been moved out of the ICU and is now recuperating at Bangalore's BGS Global Hospital.

Image: CCTV footage of the Bangalore ATM attack