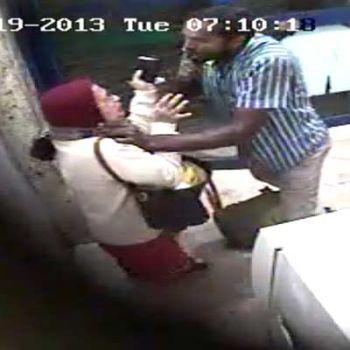 A man who purchased the mobile from the person who attacked a woman at an ATM in Bangalore on Tuesday has been picked up by the police for questioning.
The manhas been detained from Hindupur, which is 150 kilometres from Bangalore.
The police are questioning the person for further leads, and sources tell Rediff.com that the attacker is not too far away from Bangalore.
The attacker after the incident fled Bangalore immediately. He had stolen the phone from the victim and sold it to the person who was detained on Thursday.
The phone was sold along with the SIM card, and the moment the cell was switched on the police tracked him down and picked him up.
Meanwhile, Karnataka Home Minister K J George is holding a high level meeting to review the ATM security.
The state home ministry has warned all banks to provide security at the ATMs in three days failing which strict action would be initiated.
Meanwhile, TV channels report that doctors treating the victim, a bank manager, at the hospital in Bangalore say she is conscious, able to talk and is able to take liquid food.
On Wednesday, doctors said she was still critical after a shard of bone had pierced her brain and left her paralysed on the right side.

The attacker had hit her several times on the head with a sickle.
Image: Videograb of the CCTV footage of the attack inside an ATM counter in Bangalore