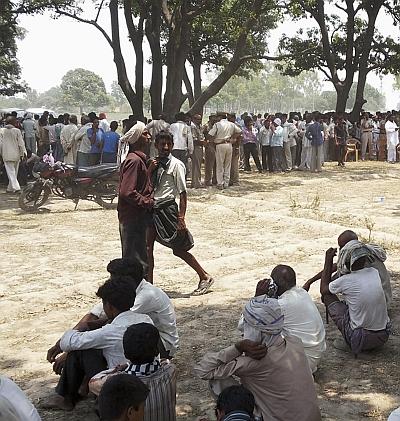 In a new turn in the Badaun case, the Central Bureau of Investigation has decided not to file a charge sheet against the five accused arrested by Uttar Pradesh police in connection with alleged rape and murder of two teenage cousins whose bodies were found hanging from a tree in May this year.
CBI sources said on Monday there was no evidence linking the accused to the murder and also that no sexual assault had taken place on the two victims before their death.
Following this, five accused arrested by UP Police -- Pappu, Awadhesh and Urvesh Yadav (all three brothers) and constables Chhatrapal Yadav and Sarvesh Yadav -- can get bail as they have completed their 90 days in custody.
According to the rules, the investigating agency has to file a charge sheet within 90 days (in heinous crime cases) and 60 days (in all other cases) from the date of the arrest of any accused.
"The Medical Board has come to conclusion that sexual assault on either of the victims appears doubtful," a senior CBI official said. CBI spokesperson Kanchan Prasad said the CBI will not be filing any charge sheet against the five accused "as of now".
The CBI had taken help of the Hyderabad-based Centre for DNA Fingerprinting and Diagnostics which ruled out sexual assault on the two girls. There was also conflicting statements by the parents of the two cousins.
The sources said the CDFD report had cleared a lot of doubts raised over the cousins being sexually assaulted before being killed and that the needle of suspicion now pointed to the family members as there were lot of inconsistencies in their statements even during a lie detector test.
The sources said the CBI is not ruling out a honour killing angle.
With the sexual assault being ruled out, the five persons had cleared the lie-detection test. The two cousin sisters -- aged 14 and 15 -- were found hanging from a tree in Badaun district in UP in the last week of May, an incident that sparked national outrage with the Samajwadi Party government in the state coming under fire on the issue of law and order situation.
The findings of CBI are in sync with the observations of UP Director General of Police A L Banerjee who had claimed that the rape of one of the victims was not confirmed and that property could be one of the motives behind the crime.