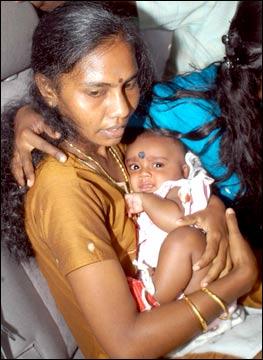 A Sri Lankan court formally handed over 'Baby 81' to its mother Junita Jeyarajah on Wednesday after an agonising custody battle for nearly eight weeks.
The four-month-old baby Abilash was separated from his parents in the tsunami that killed nearly 31,000 people. 
The reunion came two days after a judge confirmed the infant's parentage with DNA test results.
Hours after being swept away from his mother, on December 26, 2004, rescuers brought Abilash to a hospital.
As he was the day's 81st admission, Abilash was nicknamed Baby 81.
Since then eight other couples tried to claim the baby.
Initially, the Jeyarajahs couldn't prove he was theirs because their home and family records were swept away.
Baby girl becomes tsunami symbol
Forbidden to even pick up their son, the Jeyarajahs at one point barged into the hospital to get the baby and were briefly detained after a scuffle with the staff.
The parents then threatened to commit suicide unless the baby was returned to them.
Also read: Our heroes by the sea
Photograph: STR/AFP/Getty Images