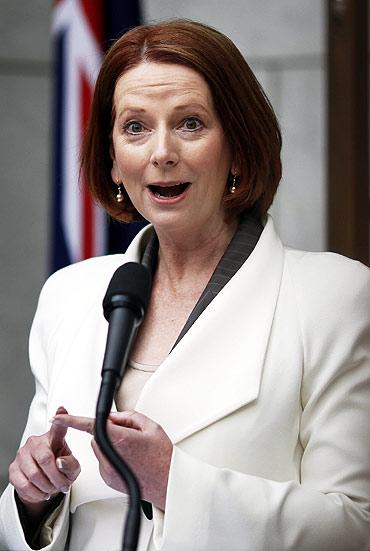 Australian Prime Minister Julia Gillard watches movies on television and knits to relax after a stressful day at work. Giving a rare insight into her personal life, she revealed these details in an interview to a local radio station on Wednesday.
"Sometimes I will flick on the TV, do a little bit of knitting," Gillard was quoted as saying by the Australian Associated Press news agency. Australia's first woman prime minister told radio presenters Kyle Sandilands and Jackie 'O' Henderson that she was "just doing a cardigan at the moment."
And while she does occupy the most powerful office in the country, Gillard jokingly talked about her deep-rooted fear of singing. "This is a deep-seated Gillard family fear, singing in public," she said, while adding that she was not trying to be a spoilsport but did not want to subject the Australian people to her terrible singing.
"This is very dangerous terrain for me...one of my earliest memories is of being in church, with my mother elbowing my father, going 'Quieter, John, quieter!' because he was singing a hymn out of tune with the rest of the congregation," she said. "That was psychologically very difficult for me," Gillard admitted.
The presenters also invited her to play "rolls of cash", a show in which contestants cover themselves in honey and roll around in an inflatable swimming pool filled with cash, walking away with whatever sticks.
To encourage her, one of the presenters Henderson even pointed out that "it could help towards the budget." Laughing along, the prime minister replied, "I could consult Wayne Swan or I could just say no," referring to the treasury secretary in the Labour government led by her.