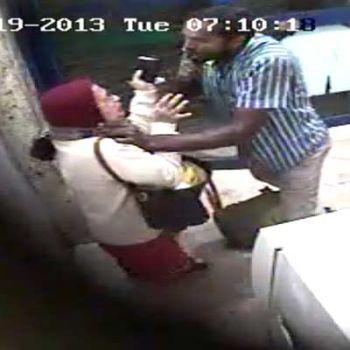 A CCTV footage on Sunday surfaced showing a man in an ATM in Andhra Pradesh bearing resemblance to the assailant who had brutally attacked a woman bank official at an unguarded ATM kiosk in Bangalore.
The footage circulated by police in Andhra Pradesh showed a man resembling the assailant drawing cash from an ATM at Kadiri on November 11, eight days before the Bangalore attack.
Asked about reports that an individual resembling the suspect had been taken into custody in Anantapur district of Andhra Pradesh, Additional Commissioner of Police (Law and Order) Kamal Panth said, "We have no such information."
"We are working on different clues to nab the assailant," he told PTI, as police intensified the hunt for the man, spreading their dragnet to different districts and other states.
The police had earlier announced a reward of Rs one lakh to anyone providing information leading to his arrest. They had also picked up a man to whom the assailant had allegedly sold the victim's mobile phone at Hindupur in Andhra Pradesh on November 21, and was questioned for leads.
With the incident sparking nationwide outrage and concern over safety at ATMs, Karnataka government has cracked the whip telling banks they should provide security or shut down ATMs.
As the deadline set by the government to provide security to ATMs ended on Sunday, Home Minister K J George said "...we have not asked for permanent shutdown, they can open once they provide security. They will have to shut down until they provide security."
In the attack inside the ATM near a police station in the heart of the city, the woman was repeatedly hit with a machete by the assailant, leaving her in a pool of blood for nearly three hours before two school children saw blood stains and informed a policeman, who rushed her to the hospital.
After the brazen attack, caught on CCTV, he had walked out of the kiosk downing the shutter and taking away her mobile, leaving the bleeding woman in a serious condition.
The 38-year-old victim with grievous injuries is recovering in a hospital and is out of danger.