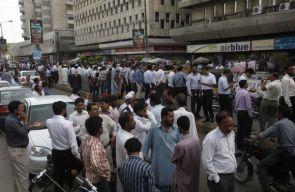 At least thirty-four people were killed and about 150 more injured when hundreds of buildings collapsed in Balochistan province of southwest Pakistan today during a massive earthquake that was felt across the region.
Most of the deaths were recorded in remote Panjgur and Kharan districts of Balochistan. Officials confirmed the death of at least 34 people in the quake-hit area, near the border with Iran.
Several children and women were among the dead.
The remote Mashkel area and Panjgur district were hit hardest by the high-intensity earthquake measuring 7.9 on the Richter scale. Reports said some 1,000 mud houses were destroyed or damaged in Mashkel.
Barracks of the paramilitary Frontier Corps also collapsed in Panjgur, reports said. In Karachi, several persons were injured when two building collapsed. At Khanewal in Punjab province, five men engaged in constructing the minarets of a mosque sustained serious injuries.
The Pakistan Army launched rescue and relief operations in the affected areas. Frontier Corps troops too were dispatched to the quake-hit areas. Medical teams, tents and medicines were immediately dispatched to Balochistan.
Additional Frontier Corps troops were moved from Kharan to supplement relief efforts. Army helicopters ferried medical staff, tents, medicines and other relief items to Mashkel, officials said.
Balochistan Chief Secretary Babar Yaqoob Fateh Muhammad said: "We have received reports about causalities and injuries in Mashkel area bordering Iran."
The quake rattled several parts of Pakistan, including Karachi, Hyderabad and Quetta cities. The strongest tremors were felt in the southern and southwestern parts of the country.
The epicentre of the quake was in Iran, where state-run Press TV reported at least 40 people had died. The quake was also felt in India, United Arab Emirates and Saudi Arabia.
The Pakistan Meteorological Department said the epicenter of the quake' which occurred at 3.44 pm' was in Iran near the border with Pakistan. The depth of the quake was about 80 km.
President Asif Ali Zardari and caretaker Prime Minister Mir Hazar Khan Khoso expressed sorrow at the loss of lives and destruction caused by the earthquake. They also expressed grief at the destruction caused by the temblor in neighbouring Iran.
Khoso, who belongs to Balochistan, directed the provincial government to assist affected people on a "war footing".
Zardari offered assistance to the Iranian government and the people in their hour of distress. In a message, the president expressed condolences on behalf of the people of Pakistan.