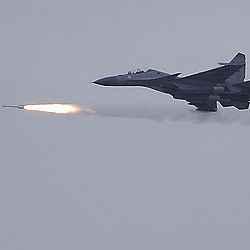 A fighter aircraft's lethality in air-to-air combat is governed by the air-to-air missile that it carries. Since the Independence, the Indian Air Force has mounted French, Russian and British missiles on its fighters. On Sunday, an IAF Sukhoi-30MKI fighter conducted the first test launch of the indigenous Astra air-to-air missile, which the Defence R&D Organisation is developing at its missile cluster in Hyderabad.

The Astra air-to-air missile is the smallest missile on the DRDO's menu, which has achieved notable successes in giant ballistic missiles like the Agni Series. Yet the Astra is among the DRDO's biggest technological challenges.

The Astra, tested over the sea off Goa on Sunday, was launched by a Sukhoi-30MKI fighter that slung the missile on an under-wing pylon. Already travelling at several hundred kilometres an hour (the speed of the aircraft at the time of launch), the missile's smokeless propellant quickly accelerates it to about 4,000 kmph in an operational launch, as it screams towards the target fighter.
A data link with the Sukhoi-30MKI continuously updates the missile, steering it towards a target that might have detected the missile and is manoeuvring to get away.
At 15 km from the target, the Astra's on-board seeker picks up the target and homes in on it. Reaching near the target, a radio proximity fuse detonates the Astra warhead metres from the target, shooting it down.

The launch at Goa on Sunday tested only the separation of the missile from the Sukhoi-30 fighter. As testing continues, the missile will be launched against an actual target, and perform increasingly difficult manoeuvres that ensure the target cannot get away by twisting and turning at high speeds.

The near impossibility of escaping from an air-to-air missile that has a "lock" on a fighter was memorably depicted in the Hollywood film, Behind Enemy Lines.

"The air-launch was captured by side and forward-looking high-speed cameras and the separation (of missile from aircraft) was exactly according to the simulation," said a DRDO press release, after the Sunday test.

Key components of the Astra missile – such as the seeker head – remain imported. A seeker is being developed, but will take a decade to be usable.

The air launcher, a rail on which the missile hangs and from which it is launched, is a Russian Vympel launcher that is being built in India. It will allow the Astra to be fired from all four of India's current generation fighters — the Su-30MKI, MiG-29, Mirage 2000 and the Tejas Light Combat Aircraft.

Astra components that the DRDO has successfully developed indigenously include the data link between aircraft and missile, its on-board computer, inertial navigation system, the radio proximity fuse and the fibre-optic gyroscope.

The current version of the Astra will be followed by a longer-range Astra Mark II, which can be launched at enemy fighters 80 km away. The Mark II, which will have a state-of-the-art ring-laser gyro, is expected to be flight tested later this year.

The Astra Project Director Dr S Venugopal, said multiple agencies, including private Indian companies, had contributed to the missile. He said, "The air launch of Astra was perfect in all respects… HAL (Hindustan Aeronautics Ltd) carried out the modification in Su-30 along with IAF specialists, and many Indian industries have an important and enabling role in the production of reliable avionics, propulsion system, materials, airframe and software."