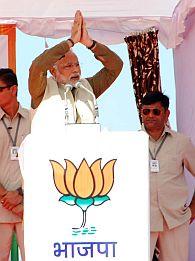 The battle for Rajasthan seems to be getting stronger towards the fag end of the campaigning for the December 1 election.
Just a day after United Progressive Alliance Chairperson Sonia Gandhi took on the Bharatiya Janata Party and claimed that that the state had progressed under Ashok Gehlot-led Congress government, BJP's prime ministerial candidate Narendra Modi not only ruled out the Congress president's development claim.

Addressing a rally in Sikar district a day after Sonia, the Gujarat strongman took a dig at the former over development in the desert state.
"Madam (as Modi attributes Sonia Gandhi) says development has taken place in Rajasthan. But I am asking a few questions. They will not answer my questions, but still I am asking -- Here (Rajasthan) the government got Rs 20 crore for promotion of modern science in schools. While it was too little as it is her (Sonia Gandhi) own government and she says, she likes the government, and then also the government could spend only Rs 4.77 crore for development work," Modi said, attacking the Gehlot government.
He continued, "The government is so insensitive. When it got Rs 5 crore for disabled people, it did not spend a penny for them. As far as malnourishment is concerned, Rajasthan's average is above than national average. And here, the women literacy is not even 50 per cent."
Continuing his onslaught, he alleged, "Even today women of Rajasthan have to wait to get dark to go to toilet. Only 20 per cent houses in Rajasthan have toilets while 80 per cent do not."
The BJP's PM nominee then promised, "Madhya Pradesh was among the BIMARU (acronym for Bihar, Madhya Pradesh, Rajasthan, and Uttar Pradesh) states of India. But Shivraj Singh Chouhan removed that tag. But, Rajasthan could not come out of it. I am promising you… if we will get five years, we will remove this tag."
He then set the target on Sonia.

"Madamji was saying that where were we (BJP) in last 5 years? We were researching on the Rajasthan government with a microscope and not only we, entire India is now researching on the Delhi (Central) government," Modi said.
He also told the gathering that the Congress had not fulfil its promise of reducing inflation within 100 days, and a government that broke its promises should not be voted for again.
He continued his attack on Sonia in his second rally at Ajmer.
He also attacked Congress national vice-president Rahul Gandhi.

Modi mentioned that for "Shahzada (as he attributes Rahul), India is a beehive but for us it is motherland. For him poverty is state of mind, but for us poor are to be worshiped".