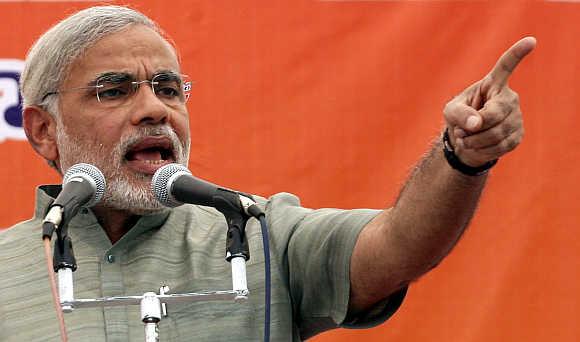 On the last day of campaigning at Pokhran in Rajasthan, Bhartiya Janata Party prime ministerial candidate Narendra Modi took potshots at the son-in-law of chairperson of United Progressive Alliance Sonia Gandhi, Robert Vadra.
"Who has taken your lacs of acres of land? Vasundhara Raje is going to form the government in Rajasthan and she will bring back every inch of land," hinting towards Vadra's alleged land purchase in Rajasthan.
Taking a dig at the Gandhi family he said, "How will the police catch the thief if the thief himself is a family member?"
Modi held three rallies on Friday -- Sumerpur, Pokhran and at Sardarpura -- Chief Minister Ashok Gehlot's constituency.
At Sardarpura, he praised Gujarat and his rule, "Gujrat and Rajasthan share the same check-post. While Gujarat gets 1,300 crore from the post, Rajasthan only gets 532 crore -- where does the money go?" he said.
He then talked about power supply in his state, "When I had come to power in Gujarat, people used to say that 'please provide power at least during dinner'. But today, there is round-the-clock power in Gujarat."
The Gujarat strongman also took a dig at Union Finance Minister P Chidambaram's statement, "Chidambaram has said that the economic crisis rose because people buy gold. Will you buy that logic?"
He continued and asked the Union finance minister, "I am not an intellectual like you, I came here selling tea. When Atal Bihari Vajpai was no longer in power, even after several limitations imposed on the government, the value of the rupee against dollar was between Rs 40 to 45. How much it is today?"