The record voter turnout in Rajasthan has forced politicians and psephologists to junk their pre-poll calculations. Now, all eyes are on the December 8 counting, says P B Chandra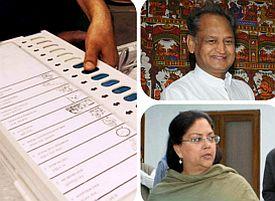 Political parties in Rajasthan are befuddled by the record 74 per cent voter turnout in the December 1 polling.

The awareness drive undertaken by the state Election Commission and voluntary organisations seems to have paid rich dividends and forced psephologists and politicians to rethink pre-poll projections.

The 2008 verdict had thrown up a hung assembly after 66.39 per cent of the electorate cast their votes. Now with 16.5 lakh new voters exercising their franchise this time around, hopes of a stunning result have gone up.

The state's population -- as per the 2011 census -- is 6.65 crore.

Of these, 4.08 crore people (2.15 crore men and 1.93 crore women) were eligible to cast their vote -- 45 lakh more than the 2008
tally.
The men constituted 74.91 per cent of the vote share while the women's share stood at 75.51 per cent.
Some experts are attributing the high women voter turnout to the Vasundhara Raje factor.
"The high percentage of votes is surely baffling and the parties are trying to understand this new trend, which came only because first-time voters, second-time voters, women and the minority community came out in large numbers," says psephologist Dr Sanjay Lodha.
Lodha, in a pre-poll survey for the Centre for the Study of Developing Societies, gave 11 seats to the BJP. But the high percentage of polling has rendered all calculations useless. Those who were expecting the results to reflect the casteist flavour are withdrawing their statements.
While the BJP has been riding the Modi wave, the Congress has been banking on the "good work" done by the party's present and previous governments. But what is surprising is that leaders of both parties could gauge the mood of the voters.