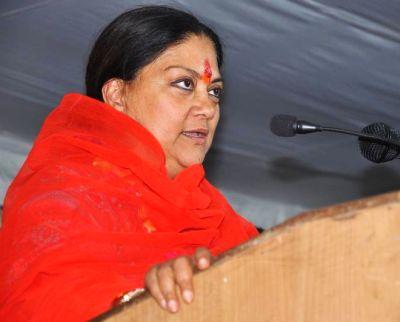 A common person is five years older after five years. But in poll-bound Rajasthan there are many leaders who have aged by two to nine years since the 2008 assembly election.
Political leaders of both the ruling Congress and the Bharatiya Janata Party have displayed such anomaly when it came to ageing by years.
And it's not just the smaller political leaders who are showing discrepancy in age. Bigwigs like (BJP's chief ministerial candidate) Vasundhara Raje has also shown anomaly when it came to listing her age in the nomination forms. Going by the numbers listed, it has emerged that even the former chief minister has aged by six years and not five years since 2008.
When Raje had filed her nomination five years back, she was 55-years-old, but while she filled this year's papers she has not mentioned 60 but 61 years as her age.
Another BJP candidate from Mandsaur constituency, Yashpal Singh Sisodia, went ahead to mention his age as 54 years instead of 52, meaning he grew by seven years instead of five since 2008. Sisodiya was 47-years-old in the last assembly polls.
The third candidate from the party in this list -- Radheshayam Patidar -- is contesting from Suwasara and has also grown by nine years in the last five years. In 2008, he was 47-years-old but in 2013, he is 56.
If BJP leaders including its chief ministerial candidate are ageing more than years, then Congress leaders are going younger with every passing year.
If you don't believe, then take the curious case from of the same Mandsaur constituency where Sisodiya has aged more than his challenger Congress candidate Mahendra Gurjar.
In these five years Gurjar has aged by only four years. In the last assembly polls, he was 34-year-old, and now he is just 38.
Another Congress leader Subhash Kumar Sojtia who is contesting from Garot assembly segment has grown by just two years in the last five years. Sojtia was 57-years-old, and now he is only 59.
Senior journalist Narayan Bareth sees a serious issue out of it and says, "It is an irony that the people who will get power to make law are not taking care while mentioning their correct age. All this is happening because no government agency crosschecks it. When candidates found that they could get away by giving wrong assets detail then who would care about filling in the right information?"
"Such things will continue till Election Commission starts disqualifying candidates for furnishing wrong information," he adds.
Image: BJP's CM candidate Vasundhara Raje addressing a campaign rally in Nathdwara
Photograph Courtesy: Vasundhara Raje's Facebook fan page