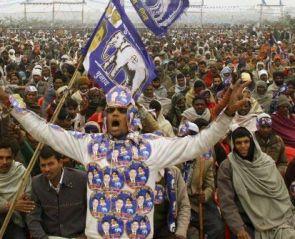 The Delhi's Election Commission has detected instances of "paid news" relating to five candidates in the run-up to assembly election and added expenditure in this regard in their poll expenses.
However, the Commission is yet to decide on the appeals of two Congress leaders including Revenue Minister Arvinder Singh and Sushil Gupta who have moved against the order of inclusion of amount spent on "paid news" in their poll expenses by the District Media Certification and Monitoring Committee.
The district MCMC has passed an order to include Rs 24,407 and Rs 9,786 in the poll expenses of Singh and Gupta respectively. Singh is contesting from Gandhi Nagar while Gupta is a Congress candidate from Moti Nagar constituency.
"We have received appeals of both the Congress candidates and are in the process of analysing facts. Orders will be passed subsequently," said CEO Vijay Dev on Monday.
The other five candidates against whom inclusion of amount has been passed are Bharatiya Janata Party candidates Neel Daman Khatri (Narela- Rs 17,500) and Jai Prakash (Sadar Bazar -- Rs 4,893), Bahujan Samaj Party candidates Dheeraj Kumar Tokas (R K Puram - Rs 18,019) and Md Saleem Saify ( Nangloi - Rs 9,817).
Sixty complaints of paid news have been received by Delhi's election office so far. In 19 cases, the CEO took suo motu cognisance of news stories published in the media.
Complaints were not found to be of paid news in eight cases, while in 28 cases notices were issued to candidates to submit their replies. Besides, there are 24 cases where the Office of CEO is in process of issuing notices.
As far as action against electronic/print media is concerned for paid news, Dev said a detailed report would be sent to the Election Commission of India after the electoral process gets over.
"The EC will further interact with the Press Council of India and the appropriate broadcasting authority for action against media houses," added Dev.
Over Rs 1.31 crore in cash has been seized till date in the poll-bound national capital by surveillance teams appointed by Delhi's EC.
A total 46,085 persons have been booked against whom preventive action was taken under various sections of the CrPC and the Delhi Police Act while 909 persons have been "bound down" by the police to maintain calm and peace ahead of the polls.
For violating the Model Code of Conduct Violation, 346 cases have been lodged against various political parties and independent candidates with the Aam Aadmi Party topping the list with 105 first information reports registered against the party, followed by BJP (86), the Congress (88) and the BSP (27), poll authorities said. 5,915 hoardings were removed from public properties while 3,284 hoardings (defacements) were removed from private properties.
Fifteen FIRs have been registered for misuse of vehicle and red/blue beacons and nine FIRs registered for illegal meetings and speeches without permission.
One thousand six hundred and twenty three licenced arms were deposited and 70 unlicensed arms and 85 cartridges seized by poll watchdog officials.
Besides, 758 litres of Indian Made Foreign Liquor, 1642 litres of country liquor and over 514 beer bottles were also seized. Dev said there has been a substantial reduction in the sale of liquor in November 2013 as compared to corresponding period last year.
During November 8-14 period, beer sale decreased by 60 per cent, IMFL by 88 per cent and country liquor by 49 percent.
During the second week (November 15-21), beer sale declined by 64.9 per cent, IMFL by 85 per cent and country liquor by 48.9 per cent. Likewise, during the third week (November 22-29), beer sale registered a drop by 46 per cent, IMFL by 79 per cent and country liquor by 36 per cent.