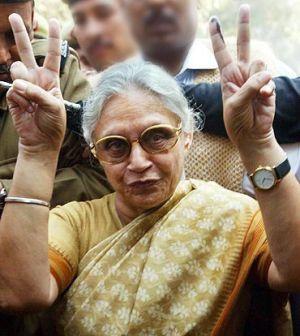 Double decker flyovers, developing the National Capital Region as a Common Economic Zone and a unified command for governance of Delhi are some of the promises made by ruling Congress on Wednesday in its assembly election manifesto.
Chief Minister Shiela Dikshit, while releasing the manifesto, said that the NCR has become the hub of development and it should be developed as a Common Economic Zone.
"The NCR should be developed as the CEZ where there will be common taxation so that the entire area, not only for its own (Gurgaon/Noida) but for the entire Northern India, becomes a hub where there are industries, services and ultimately lead to high standards of living," Dikshit told reporters.
She was of the opinion that the city could have progressed more if there were lesser multiplicities."There should be a single command for Delhi. Going to different agencies and ministries takes away a lot of time. We think that if these delays were not there, then whatever progress we have made in the last 15 years, we could have doubled it," she said in the pressence Union Communication and IT minister Kapil Sibal.
The manifestor states that the unified command should be fully empowered to take decisions and issue directions on all matters including land, municipal governance and police (barring matters relating to security of Union government and diplomatic core).
She maintained that despite the construction of 48 flyovers, traffic jams still takes place.
"Now we have thought of constructing double decker flyovers so that people's problems lessen," she said adding 'hawking zones' will be created so that hawkers do not have any problems and get evicted by various agencies.
Claiming it has always been the policy of her party for inclusive growth, the chief minister said the GDP of Delhi is the highest in the country.
"While for the entire country, it is 8.33 per cent, for Delhi it is 10.33 per cent in the past five years. We want to double this and once this happens, the income of the people will automatically go up and people will get more opportunities," she said.
Dikshit said Delhi government spends 65 per cent of its budget to the social sector in various fields such as pension, Ladli scheme, women, and for labourers.