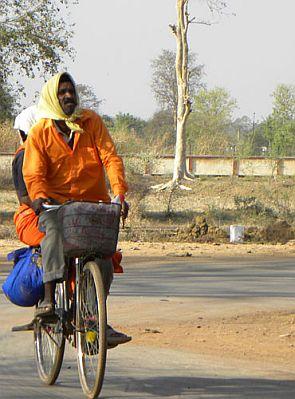 Naxal-hit Bastar, which goes to polls on Monday, is witnessing a stiff political battle with Congress going all out to wrest control from BJP of the region widely seen as a deciding factor in winning Chhattisgarh.
The fact that Congress Vice President Rahul Gandhi held two rallies in this tribal dominated region so far -- one in Jagdalpur and other in Kanker -- while the Congress President Sonia Gandhi held a rally at Kondagaon on Thursday reflects the importance of the region where BJP bagged 11 out of 12 seats in the last assembly.
To woo tribal voters, Congress has promised 32 kg free rice per month to each family living below poverty line.

It has vowed to increase the insurance amount for people from unorganised sector to double and has also promised rehabilitation of people affected in the Naxal-dominated areas. The party is also banking on "sympathy" votes in view of the May 25 Naxal attack against its leaders and anti-incumbancy factor.
"If one sees Chhattisgarh politics, other regions like Bilaspur, Durg, Raipur mostly have scattered mandate with both the BJP and Congress getting more or less equal number of seats. However, in case of Bastar, the trend is that voters vote for one party," explains Rajesh Tiwari, a local Congress leader and former district president of Bastar.
"In a 90 assembly seats legislature if even 8-10 seats sway in one direction, then it becomes a deciding factor. This is why we see everyone is concentrating on Bastar," he adds.

Congress is well aware of the fact. It lost miserably in the Bastar region when elections were conducted in Chhattisgarh for the first time after carving out of a separate state.
In 2003, the BJP got nine of 12 seats. In 2008 elections, BJP secured 11 out of 12 seats making a clean sweep.
In 2008, the Congress was defeated by the BJP by more than 20,000 votes in one seat and by 15,000 votes and more than 5000 votes in two seats.
There were some two seats where Congress lost by less than 3000 votes and in one seat it lost by mere 192 votes.
The May 25 attack has been a major factor. Naxals had ambushed a convoy of Congress leaders in Bastar, killing 27 people and virtually wiping out the entire party leadership, including state Congress chief Nand Kumar Patel, his son Dinesh, tribal leader Mahendra Karma who had founded the Salwa Judum and former legislator Uday Mudliyar. Senior leader Vidya Charan Shukla, 84, succumbed to his injuries two weeks later.

Local Congress leaders claim there is a sympathy wave in the region for the party.
"We have learnt from our past lessons and changed our strategy. This time we have given chance to grass root level workers and we will win maximum seats," said Chhattisgarh PCC president and Union Minister Charan Das Mahant.

The BJP is also trying to hold its fort, but has its own set of problems. Local party leaders say that killing of Congress leaders in the JhiramValley incident may hurt its prospects.
It is also battling anti-incumbency in many assembly seats.
"We don't think we can sweep the region this time. Although, we managed to counter the sympathy wave created after the Jhiram valley incident, it still exists and we cannot deny that," a state BJP leader said.
Even Brij Mohan Agarwal, a senior BJP minister in the Chhattisgarh government and party heavyweight from South Raipur assembly seat, admits that Bastar won't be a clean sweep this time.

"We will try to compensate our losses in Bastar by winning more seats in other parts. In Bastar, we have changed two of our sitting MLAs from Kanker and Bhanupratappur to counter anti-incumbency.

"We are also popularising our welfare schemes and banking on that," Agarwal says.
It has tried to woo the tribal voters by schemes like Chhattisgarh Food Security Act 2012.
Apart from its schemes to woo the tribal, the BJP also roped in its Prime Ministerial candidate Narendra Modi for campaigning.
Interestingly, Modi chose to campaign in Jagdalpur and Kanker, both in the Bastar region when he came to Chhattisgarh.