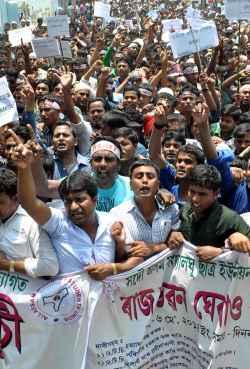 Five more bodies were found on Wednesday morning from two trouble-torn districts of Assam, taking the toll in the violence unleashed by ultras to 41.
The bodies, which were recovered from Beki river that flows from Baksa district, are yet to be identified.
"Officially, we have not identified the bodies yet but the families have identified them to be from the affected areas," Baksa DC Vinod Seshan said.
"However, identification has to be done to ascertain whether these are the victims of the attack in Narayanguri and Hagrabari villages," Seshan told PTI.
A team of 40 National Disaster Relief Force personnel, which reached the spot on Tuesday, started their operation from Wednesday morning to fish out more bodies from the Beki river.
Suspected NDFB(S) militants had unleashed violence in the two districts of Baksa and Kokrajhar on May 2.
Will snap ties with BPF if charges prove to be correct: Gogoi
Meanwhile, Assam Chief Minister Tarun Gogoi on Wednesday said his government will break the alliance with Bodoland People's Front, if allegations of the Hagra Mohilary-led party's involvement in killing Muslims are found to be true.
"I will sever the ties with BPF if they are actually involved in killing the Muslims. It will not take even 5 minutes for me," Gogoi told reporters in Bhangarpar after meeting the victims of Narayanguri and Hagrabari villages.
The NIA is probing the incidents and the state government has separately enquiring the massacre, he added.
On demand for dissolving the Bodoland Territorial Area Districts (BTAD), Gogoi said "I cannot comment on that as it was created by the Centre and is a Constitutional issue."
The chief minister condemned the killings by Bodo militants terming as "inhuman, barbaric and uncivilised".
"We will take all possible steps to arrest the culprits. People have given us some names and a few are already arrested," he added.
Gogoi also said the state government will take care of all the children, whose parents were killed by the Bodos.
Earlier, victims and affected families staying at the relief camp at Bhangarpar demanded Gogoi to dissolve the BTAD immediately.
"We don't need BTAD. Please dissolve it immediately. We are supporters of Congress and we want only Congress government," the victims said.
Bodoland Territorial Council is the governing body of BTAD. The Bodoland People's Front, which was formed after militant group BLT surrendered and joined mainstream politics after an agreement with the government, is in power of BTC.
Image: Members of Al Assam Minorities Students Union protest against the violence, in Guwahati on Tuesday
Photograph: Rediff.com