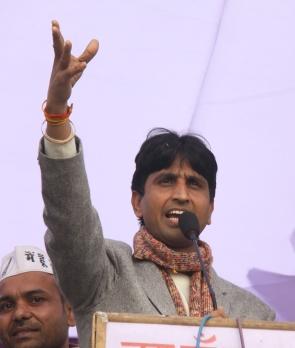 The Aam Admi Party on Wednesday complained to the Election Commission that several booths in Amethi in UP have been captured, but the poll panel found the charge to be unfounded after verification and said voting there was progressing peacefully.
"The EC had received several complaints of booth capturing in Amethi, which were referred to the state poll authorities. They found no evidence in such complaints. Polling was found to be normal by the poll officials after visiting the booths," Uttar Pradesh Chief Electoral Officer Umesh Sinha told PTI.
The complaints of poll rigging pertained to booth numbers 42, 26, 108, 110, 111 and 117, which were visited by EC officials to verify the allegations, the CEO said.
In Delhi, a senior EC official said, "The observer (senior IAS officer Ramakrishna) visited booth numbers 37 and 38 (in Amethi's Mehmoodpur area) and found no evidence of capturing. The polling, though, has so far been recorded as low in the booths."
The EC said AAP has also alleged rigging in 13 other booths in Amethi but sector magistrates who visited the booths found that no untoward incidents have taken place.
AAP has also alleged that Congress candidate Rahul Gandhi is moving in Amethi in a cavalcade.
"The DM and SP have informed the commission that while Gandhi was moving in one vehicle, the others were security and escort vehicles which he is entitled to as per norms," the official said.
He was responding to the issues flagged by AAP through district authorities.
Amethi is among the 15 seats in Uttar Pradesh which went to pollson Wednesday, where two-time sitting MP Rahul Gandhi is pitted against BJP's Smriti Irani and AAP's Kumar Vishwas.
Rahul objects to lotus drawing in Amethi polling booth
Meanwhile, Rahul Gandhi today objected to a lotus sketch on a blackboard in a polling centre in the constituency and said he would draw the attention of the Election Commission towards it.
Gandhi, who for the first time visited his constituency on polling day ever since he has represented the seat since 2004, took a round of booths in the area.
While visiting one such polling station in Phulwa village in Tiloi, the Congress Amethi candidate observed a lotus drawn on the blackboard and said he would complain to the EC against it.
However, Tiloi SDM A K Singh said they are yet to receive any complaint on the matter.
The commission had directed the authorities to cover all the election symbols which could be displayed for various reasons in schools.
Image: AAP's Amethi candidate Kumar Vishwas