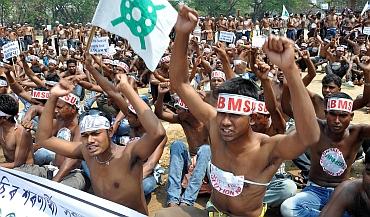 It was in July last year an unprecedented spell of communal riots broke out in the Bodoland Territorial Council area in Assam, involving the Bodo tribes and immigrant Muslim settlers.
As the rehabilitation of this section of landless Muslim violence-displaced people has remained unresolved for over eight months now, the All BTC Minority Students' Union on Monday took staged a protest rally in the heart of the city, demanding immediate rehabilitation of minority violence displaced people.
Wearing nothing on the upper portion of their bodies, protesting ABMSU activists stormed the main thoroughfare in Guwahati. Their demands included rehabilitation of all violence displaced people with or without land ownership document if they are otherwise found to be genuine Indian citizens.
The ABMSU, in its memorandum addressed to Assam chief minister Tarun Gogoi stated that some violence-displaced Muslims 'genuine Indian citizens' could not procure land document as land survey last conducted in the area in 1952.
The demanded the state government to follow the directive of the Central government issued in 2006 and 2007 for rehabilitation of violence-displaced people and protect the land rights and citizens' rights of all sections of people living in conflicts-ridden BTC area.
The students' body demanded stern action by the government against the miscreants who have resorted to economic boycott of Muslims in certain parts of the BTC area after the July 2012 riot depriving them of their livelihood options. They termed it a serious violation of human rights and demanded setting up of a cell of National Human Rights Commission in the BTC area to monitor the ground reality.
The ABMSU has alleged rampant extortion in BTC area by insurgents and miscreants and demanded immediate confiscation of illegal weapons available in the area.


They also demands that the BTC Accord which was signed by the Central government with Bodo militant outfit Bodo Liberation Tiger (BLT) in 2003 must be reviewed in the light of the real demographic pattern in the BTC area so that every community living in the BTC could get proper representation in the BTC as per their population strength.
The riots had left over 100 dead and displaced over four lakh people during its worst phase. The Violence-displaced from both the communities were sheltered and provided relief in government-run refugee camps, set all over the area until rehabilitation process was started after the situation turned normal after about two months.