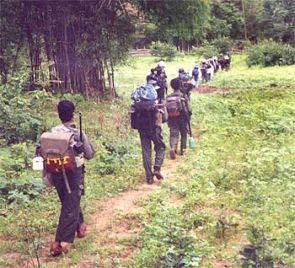 A high-level security review meeting held between senior police official of Assam and Meghalaya in Guwahati on Wednesday decided to launch joint operation against marauding Garo National Liberation Army militants. The ultras have killed 12 people, including five policemen and seven villagers on both sides of the inter-state boundary since Sunday.

The GNLA ultras have struck roots inside thick jungles along Assam-Meghalaya boundary areas and have been on an extortion spree on both sides of the boundary.

"Under no circumstances the outfit will be given an upper hand. We will deal with the situation firmly," said Assam ADG (law and order) AP Raut, who was also present at Wednesday's meeting. Meghalaya Police was represented by the state's ADGP, Y C Modi.
Officials from intelligence agencies were also present besides senior officials from paramilitary forces.

The meeting was held at Assam Police headquarter to review the situation and decide on a strategy to deal with the rebel group that is having a free run in the Garo hills and the
inter-state border areas.

A joint control would be set up in Goalpara district of Assam for the operations that will be conducted with the help of army and paramilitary forces on both sides of the inter-state boundary.

Meanwhile, additional companies of paramilitary forces have been deployed to tackle the rebel group which has also posed a threat in the run up to the Rabha Hasong Autonomous Council
elections slated for later this month.

The Meghalaya government had sounded a security alert on the inter-state border following killings of seven villagers at Gendapara in Goalpara districts of Assam on Diwali night.

The Assam government has also imposed an indefinite night curfew from 7 p.m. to 6 a.m. on Assam side of the inter-state boundary to prevent any untoward incident following the killings.

Twelve people were killed and thousands of houses torched rendering about 50,000 people homeless during a spell of ethnic violence between Garo and Rabha tribes in East Garo Hills in Meghalaya and Goalpara district in Assam in January 2011.