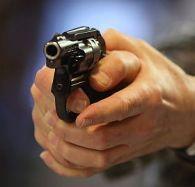 An unidentified gunman on Wednesday hijacked a school van carrying 11 passengers from Simaluguri town in Sivasagar district of Assam and abducted a girl student of Class VI. The gunman then fled into the jungle along the Assam-Nagaland boundary near Bihubor around 2.30pm.

The police are yet to trace the girl despite launching a massive search under the personal
supervision of Sivasagar SP, Bijoy Giri Kuligam. All the students who were traveling in the school van were from Nazira Kendriya Vidyalaya. The other 10 students were found unhurt.

Police informed that the gunman who was apparently in an inebriated state had picked up a quarrel with some people in a local restaurant and pulled out a gun when he was challenged. He also fired in the air to scare away the people who were chasing him.

"The person had at least one small weapon on him and he fired at least two rounds when people tried to stop him,"
a police official said.
After hijacking the school-van from Simaluguri town, the unidentified gunmen forced the
driver to make a U-turn and drive the van towards the inter-state boundary with Nagaland, which is just about 5 km from there.
The driver, however, managed to bring the school van to halt on a roadside ditch at Seujpur, about a kilometer away from Bihubor police station. The gunman forced the girl
student to accompany him as he fled on foot into a jungle on the inter-state border. The
girl is a daughter of a grocer at Simaluguri.
Sivasagar police have alerted their counterparts in Nagaland while troops of Assam Rifles engaged in counter-insurgency operation in Nagaland have also been alerted.