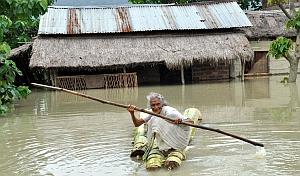 Death toll in current wave of flood in Assam has mounted to 12 while over 15 lakh people from 64 revenue circles in 16 districts have been driven out of their submerged homes.
An official source informed that authorities have set up 258 relief camps in affected districts where so far 3.39 lakh flood-hit have taken shelter.
The situation has remained still grim though the rivers were showing a receding trend in eastern Assam areas. But the water level in rivers is still rising in Western Assam areas.

A government spokesman informed that the flood ravaged vast areas under 64 revenue circles in Assam. The flood water of Brahmaputra River has overtopped the National Highway 37 beside Kaziranga National Park.

Official sources informed that the toll increased as three deaths due to the disaster were reported from Lakhimpur and Hajo. One person drowned and two others including a boy were washed away by swollen Brahmaputra in Lakhimpur and north Hajo.
The situation was serious in Guwahati city with areas of Gorchuk, Sunsali, Pandu, Kharguli and Fancy Bazaar submerged as the water level of Brahmaputra suddenly rose due to heavy rains in the upper reaches.
The district administration has taken all measures to ensure there is no casualty due to the rising water. The National Disaster Relief Force, State Disaster Relief Force, the army and paramilitary forces are carrying out rescue and relief operations, the sources added.
The situation is very precarious in part of Kamrup and Morigaon districts in central and western Assam where vast spread of land is underwater.
Image: A flood affected area in Morigoan district, some 80 kms from Guwahati