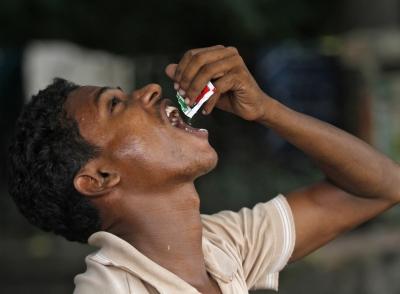 The sale, consumption, manufacturing, trading, storage and advertisement of all forms of smokeless tobacco including pan masala have been banned in Assam through enactment of a legislation that has come into effect from Thursday.

With this Assam became the first state in the country to legally impose ban on smokeless tobacco and its products taking note that smokeless tobacco accounts for 90 per cent of oral cancers.
Assam's Governor Janaki Ballav Patnaik gave his assent to the Assam Health (prohibition of manufacturing, advertisement, trade, storage, distribution, sale and consumption of zarda, gutkha, pan masala, etc, containing tobacco/or nicotine) Bill 2013 on February 11 thereby converting the bill into an act with effect from February 13.

Assam Health Minister Dr Himanta Bishwa Sarma said that violation of the provisions of the act would lead to punishment with imprisonment up to seven years and fine between Rs 1 to Rs 5 lakh.

Consumption or possession of zarda, gutka and pan masala containing tobacco shall be punished with a fine of Rs 1,000 for the first offence and Rs 2,000 for each subsequent offence.
Currently, sale, manufacture and storage of pan masala and gutka containing tobacco and nicotine have been banned in Assam and 27 others states in the country for a year since March 8, 2013 under the provisions of the Food Safety and Standards (Prohibition and Restrictions on Sales) Regulations, 2011.

However, Assam is the first state to ban the sale of tobacco by enacting a legislation.

The states where sale, manufacture and storage of pan masala and gutka containing tobacco and nicotine are banned by enforcement of the Food Safety and Standards (Prohibition and Restrictions of Sales) Regulations 2011, are Madhya Pradesh, Kerala, Bihar, Himachal Pradesh, Rajasthan, Maharashtra, Mizoram, Chandigarh, Chattishgarh, Jharkhand, Haryana, Punjab, Delhi, Gujarat, Uttar Pradesh, Nagaland, Andaman & Nicobar, Daman and Diu, Dadra and Nagar Haveli, Uttarakhand, Odisha, Andhra Pradesh, Goa, Sikkim, Manipur, Arunachal Pradesh and Jammu and Kashmir.

Image: A man eats gutka along a street in Kolkata

Photograph: Rupak De Chowduri/Reuters