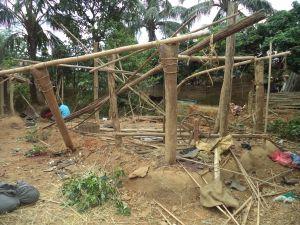 Three militants of the outlawed ULFA (Independent) were killed in a blast that took place at the residence of a farmer in a remote village near the Assam-Meghalaya boundary on Friday morning.
Police said the ULFA (I) cadres were forcefully taking shelter at the farmer's house.
They suspect the blast occurred when the militants were preparing a bomb to be planted in the run up to Independence Day. Police recovered pistols, live ammunition, a grenade and some documents from the blast site.
Two of the killed militants were identified as Kanteswar Rabha and Babul Rabha while the third one is yet to be identified.
Police said a team of ULFA cadres had sneaked into the bordering district from Garo hills in Meghalaya to carry out subversions in the run up to Independence Day. Meanwhile, security has been tightened all over the state, especially at entry and exit points to Guwahati city.