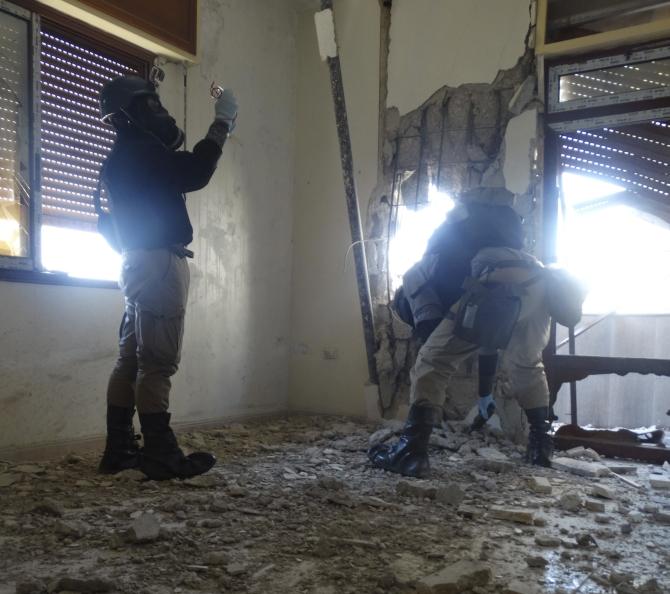 In a stern message, the United States, Britain and France on Monday warned Syrian President Bashar Al-Assad of "serious consequences" if he fails to surrender his chemical weapons, saying military strike remains an option.
"If the Assad regime believes that this is not enforceable and we are not serious, they will play games," US Secretary of State John Kerry said in a joint press conference with his British and French counterparts William Hague and Laurent Fabius respectively in Paris. Kerry said the United Nations resolution had to be "forceful, accountable, transparent and timely".
"It is significant that three permanent of the Security Council are standing in London together joined in unity, purpose and understanding of what needs to be done," he said, adding military strike could be an option "should diplomacy fail".
On his part, Fabius said, "We want to obtain a strong resolution from the UN Security Council that includes serious consequences if the plan is not implemented."
Britain's Hague added, "The pressure is on them (the Syrians) to comply with this agreement in full. The world must be prepared to hold them to account if they don't."
Under an agreement reached between Russia and the US, Syria agreed to disclose its full chemical arms arsenal within a week and eliminate it by mid-2014.
The deal was brokered by Russia to avert a US military strike on Syria in response to alleged use of chemical weapons by the regime forces in a Damascus suburb on August 21, a charge denied by the government.
Syria blames the rebels for carrying out chemical attacks in Damascus and other parts of the country during the over two and half year long civil war that has left more than 1,00,000 people dead and forced millions to leave the country.
The remarks of the top diplomats of UN Security Council's three of five permanent members came ahead of UN chief Ban Ki-moon's presentation of an investigation report on the alleged use of chemical weapons in Damascus on August 21.
The three diplomats also agreed to step up their backing for rebels fighting the Assad regime.
Kerry reiterated that the allies were "committed to the opposition" and said Assad had "lost all legitimacy to be possible to govern his country." His remarks came as the British defence consultancy HIS Jane's estimates that hardline Islamists and jihadists linked with the Al Qaeda make up almost half of 1,00,000 rebels fighting against the Syrian regime.

Image: UN chemical weapons experts, wearing gas masks, inspect one of the sites of an alleged chemical weapons attack in the Damascus' suburb of Zamalka

Photograph: Reuters