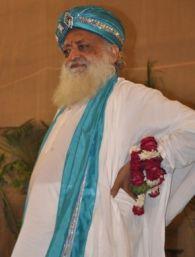 Controversial 'godman' Asaram Bapu, who has been accused of sexually assaulting a minor, will remain in jail.
A Jodhpur court on Monday extended his judicial custody by 14 days.
Asaram and his aide Shiva were produced before the court of district and session judge, where Magistrate Manoj Kumar Vyas extended their judicial custody.
Asaram, 72, was arrested on September 1 for sexually assaulting a girl.
He had requested the magistrate to allow his doctor to visit him in jail.
The magistrate refused to comment on the issue in the absence of the defence counsel.
Bapu's counsel has a moved bail application in the high court, hearing on which is scheduled later today.
Asaram's arrest followed an FIR filed by the girl, alleging she was sexually assaulted by him at his Jodhpur ashram.
The 'godman' has denied the charges