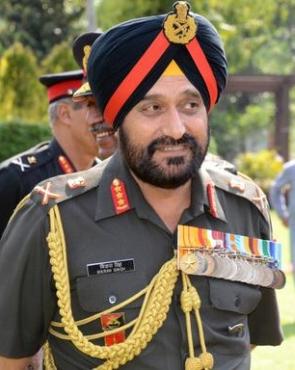 Indian Army chief General Bikram Singh on Tuesday assured Jammu and Kashmir Chief Minister Omar Abdullah that incidents of June 24 and June 30 would not happen in future. Eight army troopers were killed in a militant ambush on a passing army convoy at Hyderpora in capital city on June 24, while two youths were allegedly killed in an army firing in Markundal village of north Kashmir Bandipore district on June 30.
The army chief met the state chief minister on Tuesday afternoon. An official statement said, "The army chief briefed the chief minister of the functioning of security grid in the state and the status of coordination between various agencies connected with the security and law and order maintenance."
"Matters pertaining to Hyderpora and Markundal incidents also came up in the meeting and army chief assured the chief minister that necessary measures would be taken to ensure that such incidents do not take place in future," it added.
Gen Singh also reviewed the security situation in the state with Governor N N Vohra and the chief minister during his two-day visit. He arrived in Srinagar on Monday to carry out the review of the security situation and to interact with troops deployed in the forward areas of Baramulla and Kupwara sectors as well as the hinterland.
The army chief visited the Chinar Corps Headquarters where he was given a detailed briefing on the prevailing security scenario in the Kashmir Valley and the ongoing endeavours of the Corps towards enduring peace in the Valley. A defence statement said, 'The general addressed the officers of the entire Northern Command."
Gen Bikram Singh on Tuesday visited the forward areas and also the hinterland. While interacting with the officers and troops, he gave out his key result areas and stressed upon the secular and apolitical ethos of the Indian army. He complimented them for their outstanding vigilance, state of preparedness and high morale, the statement said. "The chief was appreciative of the initiatives undertaken by the northern command and in particular, the Chinar Corps which have led to sustaining the peaceful environment in the Valley."