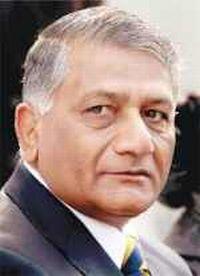 Former Army Chief Gen VK Singh on Thursday alleged that the arms lobby had become "very powerful" and was now a part of the "system" in the country.
"The arms lobby is very powerful now. As far as arms dealers are concerned, they have become a part of the system.
"I have said only what I have to say in the book," he said, referring to his autobiography 'Courage and Conviction'.
Singh was talking about his encounters with the arms lobby during his tenure as the former Army chief.
On the Tatra truck deal issue, he said it was "shocking" to know that the trucks which were available for Rs 26 lakh in Czech Republic were being sold in India for Rs 1 crore.
Talking about his autobiography, Singh told TV news channel CNN-IBN that he had held discussions with the defence minister over an alleged Rs 14 crore bribe offered to him for clearing the procurement of the said trucks.
In the book, Singh has said he had informed Defence Minister AK Antony about the bribe offer and asked him to "be careful" and the file for the procurement case was not cleared.
Asked whether he still stood by his statement that army was paying money to politicians in Jammu and Kashmir, he said he had already issued a clarification in that regard.
"I never said that army pays off politicians. I just stated that a certain amount of money is paid towards the stabilisation process in Jammu and Kashmir," he said.
On his age issue, the former army chief said he had been assured by his predecessor Gen. Deepak Kapoor that his age would be corrected in the official documents.
A controversy had broken out over the age of the former army chief as he had claimed his date of birth was May 10, 1951, whereas the government decided it to be May 10, 1950.
Had the government accepted his claim, Singh would have got 10 extra months in office as the army chief.
In his book, Singh has also states that he had opposed the home ministry stand on deploying army to combat Naxalites in Maoist-affected areas.